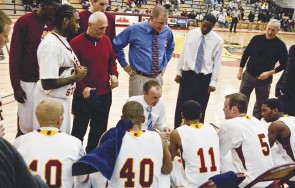 The Bulldogs suffered two tough losses on the road this past weekend as they lost by five points combined.
Senior guard Austin Randel said the two losses were hard to handle as the Bulldogs made defensive stops at the end of the game.
"Those two losses were definitely hard to swallow since we put ourselves in position to win both games," said Randel.
On Feb. 18, the Bulldogs lost a hard fought battle to Saginaw Valley State, 68 – 66. The Bulldogs took a one-point lead with 1:20 remaining on a jump shot from junior forward Justin Keenan. The Cardinals capitalized on back-to-back possessions to take a three-point lead with 33 seconds remaining in the contest and held on for the victory.
Keenan led the way for the Bulldogs offensively as he scored a game-high 28 points to go along with 12 rebounds in the losing effort.
Ferris dropped another close battle in its final contest of the four-game road trip to the Lake Superior State Lakers, 69-66.
Junior forward Matt Dehart missed a potential game-tying three-pointer from in front of the Ferris bench as time expired.
Keenan again led the Bulldogs with 24 points as Randel chipped in 13. Ferris committed 12 turnovers and forced 15 from the Lakers.
In both games, Ferris struggled with shooting beyond the arc as it was 3 of 20 against Lake Superior and 2 of 21 against Saginaw Valley.
"We need to put these past two games behind us, learn from our mistakes and make sure we get wins in these last two games," said Randel.
Following the losses, Ferris is tied with Saginaw Valley for second place in the Great Lakes Intercollegiate Athletic Conference (GLIAC) North Division. They are also in a three-way tie with Saginaw and Hillsdale for third place in the overall conference standings.
The Bulldogs have already clinched a berth in the GLIAC tournament, but their last two games remain crucial as they are fighting for home court. The top four teams in the conference will play at home, while teams seeded five through eight will ¡play on the road.
Ferris will conclude its regular season at home on Feb. 25 against Northwood and the season finale will be on Feb. 27 where they will battle against Wayne State.