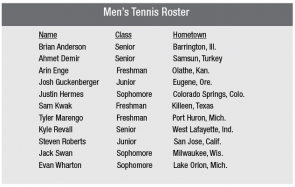 The Ferris State men's tennis season began Feb. 20 with a 5-4 victory over Lewis University (Ill.).
The Bulldogs are coming off a 14-8 season overall and a 6-1 record in the Great Lakes Intercollegiate Athletic Conference (GLIAC) last season. The Bulldogs ended the 2009 season by making it into the round of 32 in the Men's NCAA Division II tournament last season.
Third-year head coach Alex Palladino leads both the Ferris tennis teams.
"It was great to advance into the round of 32 last year, which gives us motivation to make it one step further this year," said Palladino.
The men's team, ranked No. 42 in the preseason, will play three games against top 30-ranked teams and Palladino hopes to pull off a win over one or two of those teams to improve the team's current ranking. The Bulldogs will play No. 12-ranked Northwood University at home this season. The last time the Bulldogs played Northwood at home, Ferris lost a close 5-4 match.
"We have a very talented group of players who will be capable of competing with anyone we face," said Palladino.
The Bulldogs have five upperclassmen returning this season. The 11-man roster consists of three seniors, two juniors, three sophomores, and three freshmen. Kyle Revall and Ahmet Demir are both senior co-captains this year.
Revall made the quarterfinals of the ITA collegiate tournament during the pre-season, losing a close match to a No. 1-seeded player from Northwood University. Demir won 18 of 26 singles matches last season.
"I will look to both of them to continue to display the work ethic and leadership needed to keep our team sharp," said Palladino.
The Bulldogs finished in second in the GLIAC in three of the previous four seasons. Northwood finished undefeated in conference play in each of those seasons. Palladino said the team will be successful if it "embraces the competition without losing composure."
"In the world of tennis, where you don't get any time-outs or significant periods of rest, emotions can run high, and adrenaline can sometimes work against you," said Palladino.
Tyler Marengo and Arin Enge are two freshmen Palladino says he expects to see considerable playing time from and are an added boost to the line-up.
The Ferris women's tennis team defeated Lewis University 8-1 on Feb. 20 in its first contest of 2010. Coming off a 7-5 season overall, finishing fifth in the GLIAC tournament, and improving its regional ranking to No. 6 with a victory over Ashland, Palladino says he is delighted with the progress the team has made in the past three seasons.