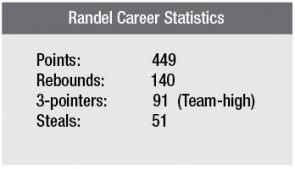 Senior Austin Randel is a marketing major who leaves it all out on the basketball court.
This is Randel's second year with the Bulldogs and he averages 11 points per game. His efforts helped Ferris to a 14-11 overall record this season. Head basketball coach Bill Sall has noticed the contributions Randel has made to his team.
"He has done a really nice job of stepping up for us, and hopefully that will continue as the year goes on," said Sall.
At basketball games, Randel does not have to look far for support as his parents attend every Bulldog home game.
"It is really nice to be able to look up and see my Dad cheering me on and my Mom smiling at me during the game," said Randel.
Having his parents attend every game definitely means a lot to Randel since he began his college career in South Carolina, where his parents were unable to attend his games.
Randel grew up just north of Big Rapids in Lake City and, like most high school seniors, the idea of getting out of Michigan appealed to him. During a basketball camp in Kentucky, a coach from North Greenville University in Tigerville, S.C. recruited him and Randel played there for two seasons. Randel said at the time it seemed like a good fit and the nice weather certainly helped in the decision.
During his time in South Carolina, Randel felt that he really was not becoming much of a better basketball player. He made the decision to come back to where he grew up and become a Bulldog. Since joining the team, he said he has become much stronger physically, which has helped his game.
Before this season, Randel said all he really did was shoot three-pointers. He also said coach Sall has helped him on the defensive side of the ball. Randel feels that during his time at Ferris, he has really grown as a player and as a student.
"Transferring here was definitely the right decision for me, both with academics and athletics," said Randel.
Randel will be looking to continue his excellence on the court as the Bulldogs are coming down the stretch and are preparing for the playoffs.
"He wants to win worse than anybody," said Sall.