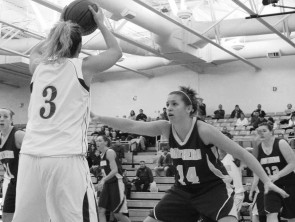 The Bulldogs will miss the Great Lakes Intercollegiate Athletic Conference (GLIAC) tournament for the first time in 11 seasons.
Ferris, which is 6-19 overall and 5-15 in conference play, was eliminated from receiving a berth in the GLIAC tournament following a loss against Lake Superior State on Feb. 20, coupled with a win by Northwood University.
After jumping out to a 26-19 edge in the first half on a 42.9 percent shooting effort from the field against Lake Superior State, the Bulldogs came out in the second half with their season on the line.
With a three-point lead and just under eight minutes to go in the contest, Lake Superior State went on a 9-1 run and erased the Ferris lead heading into the final five minutes.
The Bulldogs battled back to trim the lead to three with 3:34 remaining, but that was the closest the team could get as the Lakers held on down the stretch for the 54-42 victory. Ferris made 4 of 27 shots from the floor in the second half.
Sophomore guard Kelsey DeNoyelles posted a game-high 17 points, while junior guard Becci Houdek was the only other Ferris player to score in the double digits with 11 points. Houdek said the loss was one of the worst losses of the season.
"I don't know what happened to us in the second half," said Houdek. "Especially since we knew what was on the line."
With the loss, the Bulldogs head into the final weekend of the season looking to prove that they are still a team that can compete at a high level.
"We have to prove that we are a team that should be in the tournament, even though we are not going to be playing in it," said Houdek.
Ferris has lost five consecutive games and 10 of its last 11 contests. The top eight teams make the GLIAC tournament and the Bulldogs are tied for 10th. Ferris is 1-14 in road contests this season.
The Bulldogs will wrap up the 2009-2010 season at home with a contest against Northwood on Feb. 25 and the season finale matchup versus Wayne State on Feb. 27.