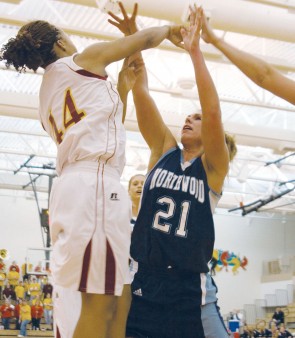 The Bulldogs enter the post-season on a positive note by winning their final two games of the season.
The Bulldogs, who missed the Great Lakes Intercollegiate Athletic Conference tournament for the first time in 11 seasons, ended the year 8-19 overall and 7-15 in conference play after defeating Northwood University and Wayne State University.
After snatching a 36-23 lead in the first half, it looked like the Bulldogs were sure to win against the Wayne State Warriors. Ferris played with confidence during the second half while leading by as many as 15 points and then never trailing as they went on to win 61-53. Bulldog head coach Tracey Dorow was pleased with the final weekend of the season.
"It's always nice to end your season on a win," said Dorow. "It very rarely happens and we ended our season on two wins after struggling for most of the season."
The Bulldogs are looking ahead to next year and gaining wisdom from this season as they prepare for the post-season. The entire roster is eligible to return next season. Dorow said she feels they have "grown a lot as a team and are building for the future." Ferris junior forward Amy Joostberns will be one of four seniors next season.
"It's weird coming off a win and being excited for post-season," said Joostberns. "It should be a good year."
This season will not be forgotten and the last two wins will not entirely remove the sting of missing the GLIAC Tournament. Until the 2009-2010 season, Ferris had won at least 10 games each season for the past 14 years. Junior guard Becci Houdek led the team in assists and steals per game this season.
"We still have to remember why we did lose those games and make sure that we take that into the post-season with us and work on it," said Houdek.
Offensive rebounds fueled a narrow Bulldog victory, 59-58, over Northwood on Feb. 27. The Bulldogs grabbed 15 offensive boards and added 11 second-chance points. A close game with both teams shooting over 50 percent from the field and 40 percent from 3-point range in the first half, it turned into a fight for the ball during the second half.
In the remaining seconds, the Bulldogs stopped the Timberwolves' last attempt that could have been another insult added to the Bulldogs' season. Northwood will battle top-seed Michigan Tech in the quarterfinal round of the GLIAC Tournament.
"We lost a lot of close games and we need to push them harder so they are more prepared to pull out those games next year," said Dorow.