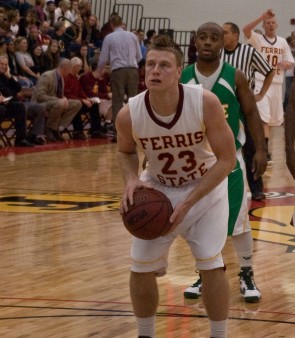 Ferris lost its home finale on Saturday thus giving up the opportunity to host a game in the Great Lakes Intercollegiate Athletic Conference tournament.
Entering the weekend, Ferris had a one-game lead over Saginaw Valley State, but the Cardinals controlled the tie breaker. Ferris needed to win its final two games to host the first game in the GLIAC tournament, but failed to do so.
The Bulldogs will be looking to win the GLIAC tournament for only the second time in history with their lone championship coming in the 1997-98 season. Bulldog head coach Bill Sall knows the team has a chance to beat Saginaw Valley though it lost both regular-season meetings.
"We definitely have a team that can play with them," said Sall. "We are more than capable to go there and win."
On Saturday against Wayne State, Ferris shot 61.3 percent from the field in the first half, including 6 for 8 from beyond the arc. However, Ferris held a slim three-point lead at the half as Wayne State capitalized on 11 points off turnovers and eight second-chance points.
In the second half, the Ferris shooters cooled off but the second chance points continued from the Warriors as the Bulldogs could not keep them off the offensive boards.Wayne took the lead with 9:55 left in the game and did not relinquish from that point on as they took advantage of Ferris turnovers and poor free-throw shooting. Sall felt his team made too many mistakes to win as they fell 85-78.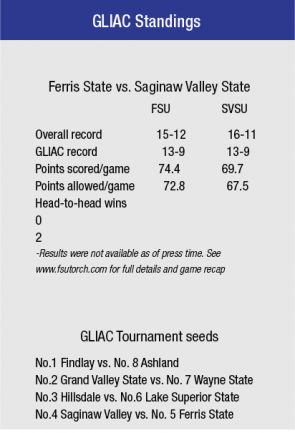 "It makes it really hard to win when you give up 24 points off turnovers, 26 second-chance points, and shoot 5 for 15 from the free-throw line," said Sall.
The Bulldogs took care of business on Feb. 25 as they defeated Northwood 93-74. Junior forward Justin Keenan had a game-high 30 points and senior guard Austin Randel had a career-high of 25 points in the blow out. As a team, Ferris shot 59.5 percent from the field in the first half.
"Offensively we were really good, but our key was our defensive stops," said Randel.