The nationally No. 13-ranked Ferris hockey team shut down No. 18-ranked Nebraska-Omaha 3-1 in the first quarterfinal game of the CCHA Tournament.
The Bulldogs lead the best-of-three playoff series 1-0 with another game to be played on Saturday. If Ferris wins, it will advance to the semifinals at Joe Louis Arena. If Nebraska-Omaha wins, the teams will play Sunday in a one-game, winner-take-all showdown.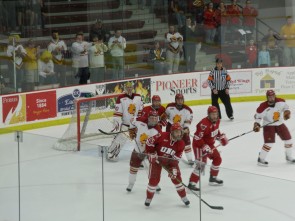 Ferris improved to 11-0 all-time in home playoff contests. The Bulldogs have outscored the Mavericks 8-2 in three contests this season.
Bulldog junior goalie Pat Nagle stopped 33 of 34 shots in the game with the only Maverick goal coming in the final two minutes.
After a scoreless first period, Ferris junior left wing Mike Embach opened the scoring 7:16 into the second period. Bulldog senior center Aaron Lewicki netted a power play goal with just over five minutes left in the second to give Ferris a 2-0 lead.
Midway through the third period, Embach netted his second goal of the game on a power play to push the Bulldog lead to 3-0. Nebraska-Omaha scored with 1:23 left to avoid the shutout, but got no closer.
The Bulldogs went two for five on their power play opportunities, while limiting the Mavericks to zero for four on their power play chances.
Lewicki tallied a goal and an assist for the Bulldogs. Junior center Justin Menke and sophomore defenseman Brett Wysopal added two assists each for Ferris in front of 862 spectators.
Miami (Ohio) topped Ohio State 6-2 and Northern Michigan snuck past Alaska 4-3 to take 1-0 leads in their series'. Michigan surprised Michigan State with a 5-1 victory in East Lansing.
Ferris and Nebraska-Omaha battle Saturday at 7:05 p.m. at Ewigleben Ice Arena.