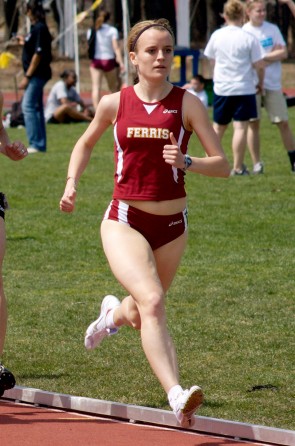 The Ferris State men's and women's track and field teams each had one member at the NCAA Division II Indoor Championships in Albuquerque, N.M.
Representing Ferris at the national indoor championship meet were men's senior pole-vaulter Greg Burns and women's junior distance runner Tina Muir.
Burns received NCAA Division II All-American honors by placing sixth overall with a career-best of 16 feet and 3.25 inches. This was Burns' first time competing in a national championship and he qualified by posting a school record of 16 feet and 3.25 inches at the Great Lakes Intercollegiate Athletics Conference Indoor Championships on March 27.
Burns adds his name to a short list of Ferris Division II All-Americans in men's track and field in recent years. He is only the third athlete since 1993 to claim All-American honors in either the indoor or outdoor national events.
"Going into the meet, my plans were definitely to be All-American and I was pumped to get the chance to try," said Burns.
Burns says he isn't finished yet and has his eyes set on jumping even higher than the record he's placed at Ferris. He hopes his hard work continues to pay off.
"I know I can jump higher," said Burns. "I can't wait to try and then make it to outdoor nationals."
Muir, in her second-straight appearance at an indoor national meet, came in 13th out of 14 runners with a time of 17:51.84 minutes. Muir came into the national competition with a sixth best time of 16:51.11 out of the 14 runners who participated. Muir received All-American accolades last year at the outdoor national championships.
Muir raced through an injury during indoor nationals, which hindered her ability to perform at her peak.
"I had hoped on performing better and I am sure that I could have placed much higher than I did, but I had been dealing with an injury that was dictating my training," said Muir.
Muir hopes to overcome her injury and plans to prepare for the future with hopes of reaching more indoor and outdoor national meets.
"I definitely hope to make indoor nationals next year and I also hope to place higher," said Muir. "I also aim to represent Ferris at the Outdoor National Championships, but my current plans involve getting healthy and allowing my body time to heal itself."
The Bulldogs will be back on the track on March 26-27 at the North Carolina State Raleigh Relays. n