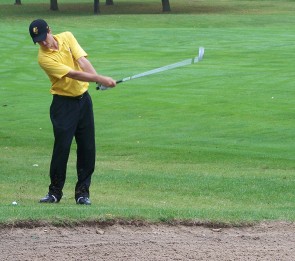 The Ferris men's golf team enters the 2010 spring season ranked No. 15 in the nation after winning three of five events during the fall.
Bulldog head coach Mike Mignano, in his third year with the team, said this is the most talented team Ferris has ever had. The team finished eighth at the NCAA-II Men's Golf Championships a season ago and is looking to crack the top five this season.
The Bulldogs are geared up to make another run at a national title. Mignano said everything the team does each day is based on the goal of winning a national championship.
"I think in general top five is good, but the guys won't be happy unless they win it," said Mignano.
Ferris never finished outside the top five in any event during the fall part of the season. The Bulldogs' worst result was at the Great Lakes Intercollegiate Athletic Conference Championships where they finished tied for fourth.
The team kicks off its spring part of the season with the UC-San Diego Southern California Intercollegiate Tournament in Mission Viejo, Calif. March 22-23. Mignano said the 12-team field consists of six of the top 20 teams from nationals last year, including 2009 national champion Sonoma State (Calif.).
"Obviously we're going out there with the goal of winning, but more importantly we want to kind of see where we are at in the mix," said Mignano.
The roster is littered with talent and experience as the team sports four seniors, five juniors, and four sophomores. The team is led by seniors Kurt Valley and Eric Lilleboe. Senior Craig Burrows and juniors Joe Brown and Garrett Simons also had one or more top ten individual finishes during the fall season for the Bulldogs.
"Kurt Valley is without a doubt the hardest working guy on our team," said Mignano. "He's our captain, he's our leader and he definitely sets an example for everybody else."
The Bulldogs will be hitting the road early in the season as the first four tournaments of the spring will be played in California, Kentucky, Indiana, and Ohio. Lilleboe said the team is very deep and expects they will be in contention for a national title in May.
"Getting off to a good start early definitely helps us with confidence, but we would much rather end the year hot at regionals and nationals," said Lilleboe. n