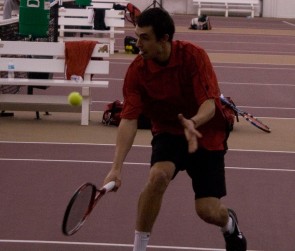 Spring break was no party for the Ferris men's tennis team, as the team lost four of five outings during its annual spring break trip.
After beginning the road trip with a dominating 7-2 romp over William Jewel (Mo.) on March 8 to improve to 3-0 overall on the season, Ferris dropped its next five matches to fall to 3-5 overall on the season.
Following the victory over William Jewel, Ferris suffered its first loss of the season the next day against Division I foe Missouri-Kansas City in a 5-2 contest, with the UMKC winning the contest by sweeping the doubles competition 3-0.
The Bulldogs, who were ranked at 44th in the Intercollegiate Tennis Association Division II poll prior to the spring break trip, added another loss as they dropped a 7-2 contest against No. 26-ranked Northwest Missouri State on March 10.
The slide did not stop though, as Ferris was dominated 7-2 by No. 31-ranked Southwest Baptist (Mo.) on March 11 and was blanked 5-0 the following day against No. 22-ranked Washburn (Kan.) University to conclude the spring road trip.
The Bulldogs returned to Michigan only to be shutout by Division I opponent Western Michigan 7-0 on March 15. Ferris is 4-24 all-time against the Broncos.
Despite the recent losing trend for Ferris, freshman Arin Enge said the team's confidence level is pretty high.
"I think the losses over spring break really gave us time to find out who we are as a team," said Enge.
The Bulldogs will get a chance to reverse their recent luck when they begin GLIAC play over the weekend, as they open the conference schedule at home with a tilt against Lake Superior State on March 20 and close out the weekend home stand with a contest against Michigan Tech on March 21.
With the team heading into conference matchups, Bulldog head coach Alex Palladino believes his team will get back on track against GLIAC competition.
"I think we'll fare pretty well in our upcoming conference matchups, in spite of our spring break results," said Palladino. "We'll have a better showing in our doubles play against the teams in our conference." n