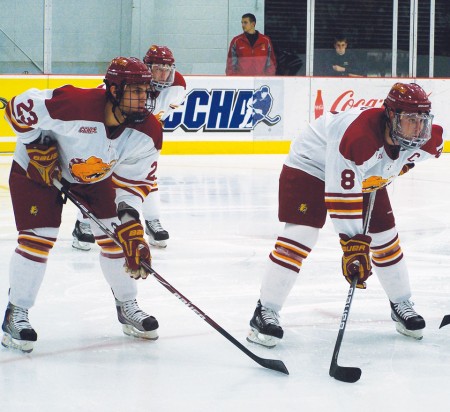 The Bulldogs dropped two close contests in the CCHA playoffs, ultimately costing the team a berth in the NCAA Tournament.
After dropping an exciting 5-4 overtime semifinal contest against then No. 12-ranked Northern Michigan on Friday, the nationally No. 8-ranked Bulldogs came out on the wrong end of a 2-1 loss against No. 2-ranked Miami (Ohio) in the third place game in the CCHA playoffs on Saturday.
With the two losses in the CCHA playoffs, the Bulldogs needed some help from Northern Michigan in hopes of claiming one of the at-large bids in the NCAA Tournament. Ferris needed NMU to beat Michigan in the CCHA Championship game to prevent Michigan from locking up the automatic bid and winning the conference tournament.
The Wolverines had other plans as they edged out the Wildcats 2-1 to earn the automatic bid for the NCAA Tournament, leaving the Bulldogs to sit and wait until the Selection Show on Sunday to learn their fate.
As the 16-team field was announced, Ferris was nowhere to be found on the bracket. The two losses in the CCHA playoffs ultimately cost the team a spot in the national tournament.
On the season, the Bulldogs finished the year with a 21-13-6 record and came in third in total points in the CCHA with 49 points, trailing only Michigan State and Miami.
Besides finishing near the top of the CCHA in the regular season, Ferris also earned its first trip to Joe Louis Arena for the CCHA Championships since the 2002-03 season, where the Bulldogs fell to Michigan 5-3 in the championship game. n