Ferris junior forward/center Justin Keenan has been named to the 2009-2010 Division II State Farm Coaches' All-America Team.
Keenan, who averaged a GLIAC-leading 21.1 points in conference matchups, was one of 16 players named to the team that was chosen by members of the National Association of Basketball Coaches (NABC).
With the selection, Keenan becomes the only Bulldog men's basketball player in program history to gain All-American honors at the Division II level. The previous four All-American selections in program history played at the NAIA level.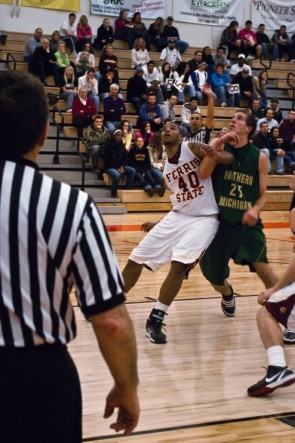 The prestigious honor of being named to the All-American team finishes off a postseason award run for Keenan, as he was also named the GLIAC Player of The Year for 2009-2010, becoming the first such Ferris player in 20 years to be recognized for the award. He was also named to the NABC All-District Team and Daktronics All-Midwest Region First Team. Keenan was also tabbed by the Grand Rapids Press as its West Michigan Small College Player of the Year for this season.
On the season, Keenan averaged 20.1 points per game and 6.9 rebounds per game in leading the Bulldogs to a 16-13 record overall and a second consecutive conference tournament berth. Keenan also broke two GLIAC single-season records with 176 made free throws and 253 total attempts in conference play.
Keenan's 18.7 career points per game ranks sixth in Bulldog history. He also ranks eighth in total points scored with 1,569. Keenan holds school records with 562 free throws made and 761 free throws attempted in his career.