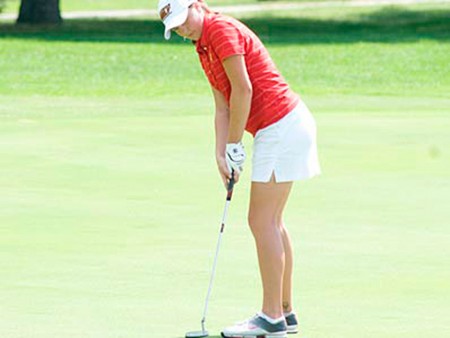 The Ferris women's golf team will kick off the spring season ranked 23rd in the Golf World/National Golf Coaches Association Division II Coaches' Poll.
During the fall part of the season, the Bulldogs finished sixth or better in three tournaments. The best outing during the fall was a third-place result at the Northern Arizona Mountain Shootout. Sophomore Erin Fuchik said the team does not feel any added pressure being ranked in the top 25.
"I believe the girls and I know that we did not play our best in the fall and are looking forward to the spring season to show everyone just how much talent we have," said Fuchik.
Sophomores Bryce Hetchler and Blaize Baumgartner, as well as freshman Ashley Swanson, all led the team in scoring in at least one event during the fall. Swanson led the team with an 81.50 stroke average, while Hetchler was close behind with an average of 81.57 strokes per round. Fuchik did not play during the fall season due to an elbow injury and is excited to be playing with her teammates again.
The Bulldogs did anything but rest during the offseason as they worked out four days a week over the winter. Fuchik also said the team members practiced certain areas of their game two or three days per week and even travelled to Grand Rapids to Thousand Oaks Golf Club so they could see the ball in flight.
"Coach (Mignano) has done a great job giving us new areas of our game to work on every day, whether it be conditioning or hitting," said Fuchik.
Ferris finished sixth at the 2009 NCAA II Championships and will be looking to return to the championships for the seventh consecutive season. The Bulldogs have finished in the top six at nationals for the last six years.
The team is comprised of five sophomores and two freshmen, having graduated three seniors from last season. Ferris head coach Mike Mignano, now in his third year with the team, said though the team is very young, he thinks they are ready to go and will be very competitive.
"I think they're going to surprise a lot of people and I think the fall was just kind of getting their feet wet and making some adjustments," said Mignano.
The first tournament of the spring will take place March 27-28 at the Northern Kentucky Invitational in Perry Park, Ky. n