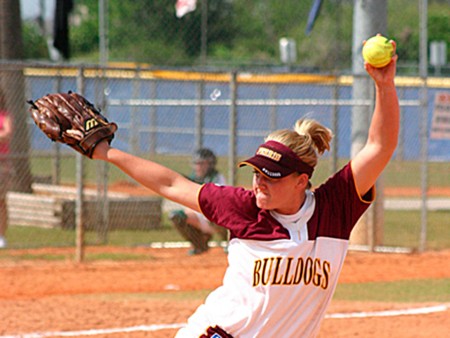 Senior pitcher Kayle Stevenson is hoping to help lead the Ferris State softball team to another successful season on the diamond.
Stevenson wants to continue where she left off last year, as she pitched her way to a 12-1 record with a 0.91 ERA in 19 games. In her final season of eligibility, she will look to keep the confidence she gained last year.
"I just need to maintain my confidence because I know I have a great team behind me," said Stevenson.
Stevenson allows batters to get hits .210 percent of the time, the lowest opponent batting average allowed in school history. She ranks seventh in ERA in school history with a career earned run average of 1.50. Stevenson ranks fifth in strikeouts per seven-inning game and tied for 17th in most wins all-time.
Stevenson started off her college career at Great Lakes Intercollegiate Athletic Conference rival Hillsdale University. After a year there, she felt the school was just not for her and, with Ferris being closer to her home, she decided to become a Bulldog. Four years later it certainly seems she has made the right decision.
"I love the school and my teammates have been my best friends for the past four years," said Stevenson.
Now in her last year of college, she has to deal with both positive and negative feelings toward finishing her career at Ferris.
"I am really excited for my last season, but it is also really hard thinking about the future and leaving my teammates," said Stevenson.
While the softball team has had a lot of new faces, they have been able to gel quickly, says Stevenson. She feels the trips to Florida and Alabama have really helped the team become close and learn about one another, both on and off the diamond.
"We have such great chemistry, which will be really beneficial for us during the season," said Stevenson.
Ferris kicks off the conference season with a home doubleheader against Saginaw Valley State on March 31. The Bulldogs have won nine of their last 12 contests after starting the season 0-4.
Stevenson, an elementary education major, will hopefully have as much success in finding a job after she graduates as she has found on the diamond.
"I have always tried to be a good teammate and hopefully will be able to be good to others through my degree," said Stevenson. n