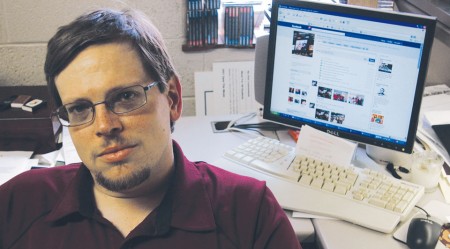 Ferris professor John Scott Gray is currently working on an article regarding philosophy and Facebook for the European Journal of Pragmatism and American Philosophy.
His article, "The Stories We Tell: Facebook and the Re-definition of Intimacy" will look at how Facebook impacts people's sense of identity and how it has affected the relationships people form with each other and how they relate with one another.
Gray said, "Facebook tells a story about who were are and conversely how we try to tell a story about who were are based on what we put on Facebook."
He believes that Facebook has opened up several new opportunities that were not available before, but that it may have its consequences as well.
He explained that from Facebook people are able to reconnect and rekindle relationships with people that they have lost touch with.
"Facebook is a wonderful thing in that it allows us to get back in touch with friends we've lost contact with for years," said Gray.
However, Gray says that for the younger generation, Facebook has become more than that.
He said for many people today, adding someone they met for the first time at the bar as a "friend" on Facebook takes the place of handing out one's phone number.
He also believes that when people reach the point where they have several hundred Facebook friends there is a risk for a kind of "muddying the lines of intimacy between a real friend and an acquaintance or pseudo friend."
Gray reminds students Facebook is merely a tool to use for their betterment and to make connections, socially or professionally, that they may not have otherwise.
However, he said people cannot judge themselves by Facebook and feel as if their self-worth is caught up in their Facebook persona, how they're perceived on Facebook, or how many "friends" they have.
He said people must remember "Facebook is not who I am, It's a representation of who I am."
For the article, Gray is looking into two primary questions.
The first: "Are we using Facebook in a healthy and self-affirming way or are we using Facebook in a way that undermines our ability to have authentic relationships with people?"
Second: "Is this a technology that makes us better, makes us healthier, makes us happier or is it something that is getting more and more increasingly a distraction and an interruption to a different way of living?"
Gray is currently a philosophy professor at Ferris and earned his Ph.D. from Southern Illinois University. n