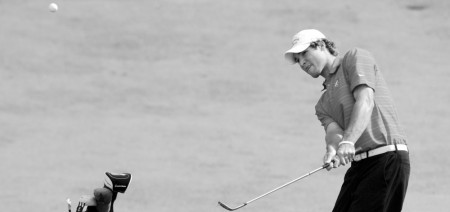 In his senior year with a bright future ahead, Kurt Valley hopes to end the season and begin living his dream.
Valley, a Bay City native who is majoring in professional golf management, will be finishing his collegiate career this season with the hopes of playing professional golf. In the past three years, Valley has made two NCAA Division II national championships appearances, placing in the top 20 last season.
Valley has the experience and determination of a seasoned golfer. His determination to get better, which measured by his head coach Michael Mignano, should help lead him to fulfill his dreams.
"With his work ethic, desire, and skill set, Kurt has all the tools necessary to continue to be successful at both the college and professional levels," said Mignano.
Valley is captain of the men's golf team. Mignano said Valley has many attributes that make him an ideal leader on any team.  His positive attitude, tremendous work ethic, willingness to learn and get better, and his competitiveness are just some of the areas that have made Valley a leader on this team. Valley not only helps set an example on the men's team, but also helps Mignano with the women's team when he needs extra assistance.
"Kurt Valley brings a great deal of leadership qualities and college golf experience to our team," said Mignano. "He has worked extremely hard on his golf game to get to where he is now."
The Bulldogs are coming off a strong second-place finish at the NCAA Division II Midwest Region Tournament II. Ferris is ranked No. 1 in the Midwest Region rankings and nationally ranked No. 18.
Valley tied for 11th place along with senior teammate Craig Burrows. The Bulldogs will play next on April 11 at the NCAA Division II Midwest Region Tournament III in Noblesville, Ind.
"In the next five weeks, I know that he is capable of leading our team to a National Championship," said Mignano.
Mignano thinks Valley should pursue his dream of playing professional golf, as long as he continues to enjoy the process of getting better and playing the game. Mignano also said he is looking forward to following Valley's career after he graduates.
"There are many outstanding college players that give up after a year or two because things do not go their way or work out perfectly to plan," said Mignano. "However, if he stays committed to his goals and can still enjoy the game, Kurt should continue to follow his dreams." n