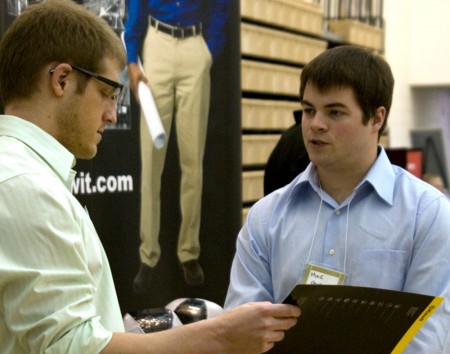 The FSU Spring Job Fair, which recently took place at the end of March, gave students a chance to speak with employers from various career paths and professions.
Angie Roman, coordinator of Career Services, said over 700 students were in attendance as well as 76 employers, a dozen more than last year.
When asked whether or not the job fair was a success, Roman said the success is based upon participant satisfaction, the number of student-employer contacts made, and what students learned from the job fair.
Career services is currently reviewing the student surveys, but preliminary results show that 51 percent of students spoke with four to seven different employers. 78 percent of students responded that they were very satisfied, satisfied, or neutral with the overall job fair.
The survey also revealed that some things students learned from the job fair were how to ask employers questions, that job fairs are a great place to explore options, that many employers are going to online applications, and companies pass on information to other sources once they receive it.
One Ferris student, senior Jess Monterosso, said although the job fair was well organized, she felt that it could have done more to benefit a greater number of students.
Monterosso, a biology major and forensic science minor, said the job fair "seemed very engineering, HVACR, plastics, and business oriented."
She said there weren't many employers aimed at science-related fields.
"The whole reason I came to Ferris was because they made me feel comfortable with knowing they would be there to help me find an internship or job whenever the time came," she said. "Well, the time has come and Ferris has yet to help me."
As to future job fairs, Monterosso said there should be greater variety in the employers that attend so as to reach out to a larger number of students from a variety of different programs.
Roman said students who feel that there were no employers for their major should keep in mind two things.
First, they should be open-minded about what they have to offer to employers. Employers often hire a variety of majors and do not always simply target a specific one.
Second, she said students should research how their own industry hires employees because attending a job fair may not benefit all employers. Of the 76 employers at the job fair, 55 were looking for students from the College of Engineering Technology.
For the job fair, Career Services did not post exact majors employers were looking for. Also, instead of coding name tags by major they were coded by academic college.
Roman said this gave both students and employers a chance to talk with people they normally would not have spoken too.
"[Students] need to talk with all sorts of employers to build relationships and use a variety of ways to find job openings," she said. "By doing this it helps give students an opportunity to broaden their job search in tough economic conditions." n