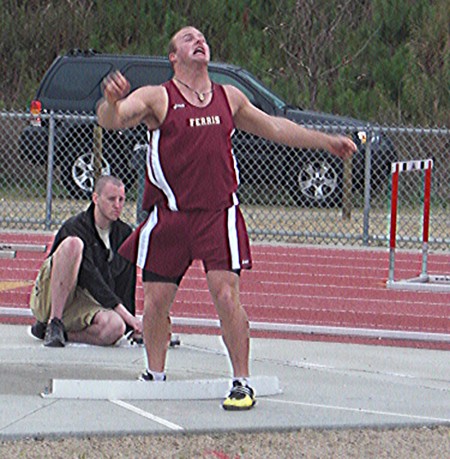 The men's and women's track teams took part in the Grand Rapids Open hosted by Aquinas College this weekend, despite less than ideal weather.
Even with pouring rain and high winds increasing the difficulty for the runners on Saturday, the Bulldogs battled through the elements and had some top individual performances in the non-scoring weekend invitational. Freshman runner Felicia Peacock said that she thought both teams did well over the weekend, despite the poor conditions.
"I would say that both teams did well, considering the weather conditions," said Peacock. "You can't really expect personal records on a miserable day."
For the men, sophomore J.J. Vandenburg took the top spot in the men's shot put with a distance of 12.95 meters.
Senior Mike Mangieri claimed a second-place finish out of 30 competitors in the men's 1,500 meters with a time of 4:05.37, only .35 seconds behind first-place. Sophomore Tyler Crossman came in fifth in the 1,500, followed by freshman Ryan Chute in sixth.
Junior Justin Price took second in the men's 400 meter dash, finishing .40 seconds off the pace, while fellow junior Alex Best came in seventh out of 28 runners in the men's 5,000 meter run.
On the women's side, freshman runner Zoey Hohmann picked up a fourth-place finish in the women's 400 meter dash with a time of 1:01.80, while fellow freshman Christa Cwiek took second in the women's javelin throw with a distance of 28.74 meters.
Senior Emily Cross claimed sixth in the women's high jump with a distance of 4-9, finishing two inches short of a tie for second. Freshman runners Alyssa Osika, Shelby Janutol and Anna Rudd finished 10th, 11th and 15th in the women's 1,500-meter run.
The Bulldog track and field teams will host the annual Bulldog Invitational at Ferris's Top Taggart Field on April 10.
"I'm sure that if we go into the meet with the intention that we're going to give everything we've got, then I think we'll perform at our best," said Peacock.
The non-scoring invitational, which was held on an annual basis until 1987 and then reinstated in 1999, will pit the Bulldogs against competitors from fellow GLIAC teams such as Northern Michigan, Grand Valley State, Lake Superior State and Northwood, among other GLIAC and West Michigan schools. n