The Ferris State softball team was busy over the holiday weekend as they faced off against division foes Lake Superior State and Northwood.
Northwood shutout Ferris 5-0 in the opener before the second game was postponed. The Bulldogs swept the Lake Superior State Lakers on Friday after being swept by Saginaw Valley State in the conference-opening series on March 31. After this weekend's games, the Bulldogs are 11-10 overall. Ferris is 2-3 in the conference and is in sixth in the GLIAC standings.
Ferris started off slowly in its first game of the doubleheader against the Lakers, but it was not long until Ferris was able to break the 0-0 tie. After three scoreless innings, the Bulldogs broke the game open in the fourth as junior catcher Rachel Mueller brought two runners home with a double to left field.
Ferris rolled from that point on as they defeated the Lakers by a final score of 7-0. It was a total team effort for the Bulldogs as they had a different player score each of the team's runs.
"It was a great day," said Mueller. "We scored the runs we needed to win and then some."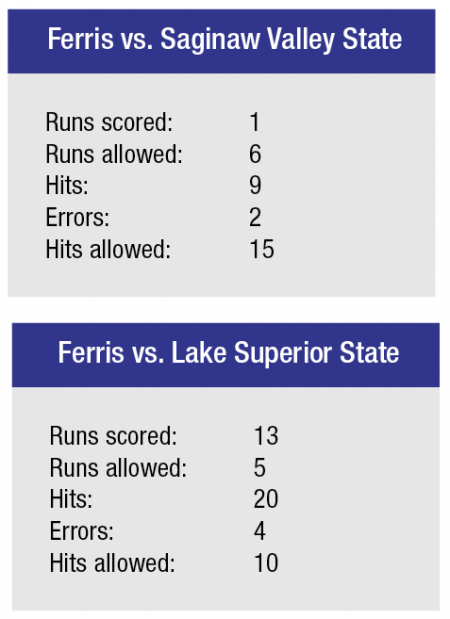 Ferris head Coach Keri Becker was very pleased with how her team performed offensively.
"We got the offense going and were able to gain some consistency," said Becker.
In the second game, the Bulldogs looked like they were well on their way to another easy win as they took a 4-1 lead into the bottom of the third. Lake Superior had other plans though as they tied it at four-all in the bottom of the inning and then went on to take a 5-4 lead in the fifth inning.
Ferris did not give up as senior second baseman Amanda Harrington hit a two-out triple to bring home the tying run. Senior outfielder Rachel Wade followed with a single to bring home Harrington for the winning run as Ferris went on to capture the 6-5 victory.
"The second game did not go as well as the first game, but the players showed a lot of character in not letting the stress of a close game get to them," said Becker.
After sweeping the Lakers, the Bulldogs struggled to get players on base as they fell to Northwood 5-0 on Saturday. Ferris managed three hits en route to being shut out. Northwood scored three runs in the first and did not look back as they coasted to victory.
Ferris traveled to Northwood on Tuesday, but the results were unavailable at the time of print. The Bulldogs head to Findlay on Saturday for a doubleheader against the Oilers.