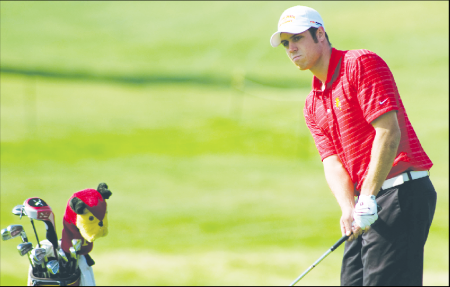 The nationally 18th-ranked Bulldogs continued their strong play by finishing second at the NCAA-II Midwest Regional Tournament in Georgetown, Ky.
Coming off a sixth-place finish at the UC-San Diego Southern California Intercollegiate on March 23 in Mission Viejo, Calif., the Bulldogs shot an opening-round best 279. The team shot 300 the second day and finished with a two-round 579 (+3) team score on the par 72, 7,007-yard Cherry Blossom Golf Course to finish second among the 24 competing teams. The tournament was the second of three legs in the NCAA-II Midwest Regional Tournament.
Indianapolis University claimed the top spot in the tournament with a team score of 562 (-14), finishing 17 strokes ahead of Ferris. Despite what some would call a successful weekend, Bulldog head coach Mike Mignano said the team was still a little disappointed with a second-place finish.
"The guys were pretty bummed after finishing second, to be honest," said Mignano. "This team has very lofty goals and they are working toward becoming better each week."
Senior Eric Lilleboe paced the Bulldogs by tying with Indianapolis University's Seth Fair for a first-day best 67 on his way to a third-place finish. As Lilleboe has developed into a senior leader for the team, Mignano said he is impressed with just how far Lilleboe has come during his time at Ferris.
"Eric has matured and developed as a student-athlete beyond any expectations that the coaching staff and his teammates had for him," said Mignano. "To watch and coach one of the best players in college golf is truly a great experience."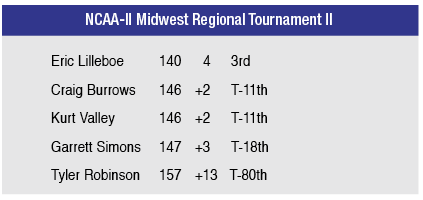 Seniors Craig Burrows and Kurt Valley shot 146 for the weekend, placing them in a seven-way tie for 11th place. Junior Garret Simons was among nine competitors who finished with a score of 147, good for an 18th-place finish.
Sophomore Tyler Robinson shot a 157 for the weekend in his first competition of the season. The top four scorers for each team count toward the overall team score.
With the strong play to start off the spring season, the Bulldogs will look to move up in the Golf World/Nike Golf Division II Coaches' Poll as the team is currently ranked 18th with 115 points. Ferris ranks first in the Midwest Region, followed by Indianapolis and Wayne State, which are also ranked in the top 25 nationally.
The team will have an opportunity to strengthen its ranking when it returns to action on April 11 as the Bulldogs will take part in the final leg of the NCAA-II Midwest Regional Tournament in Noblesville, Ind. n