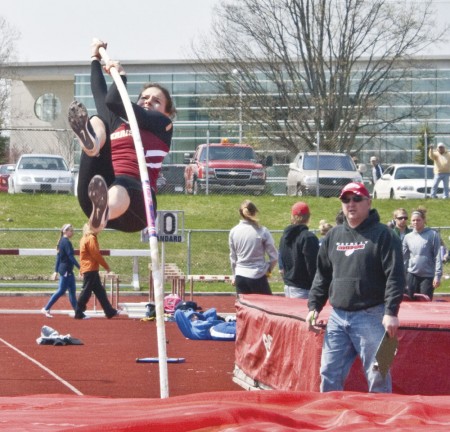 The Bulldogs put on a strong performance at the annual Bulldog Invitational this weekend, claiming 17 top-8 finishes.
Despite some strong winds and an occasional drizzle, the Bulldogs fought through the conditions to post some impressive individual finishes at the home non-scoring meet. The meet was held at Top Taggart Field and consisted of 11 teams from Michigan including Grand Valley State, Calvin, Alma, and Northwood among others.
For the women, freshman Shelby Janutol took the top spot in the 1,500 meter race with a time of 4:48.57, while fellow freshman Anna Rudd claimed second in the 5,000 meter run with an 18:15.85.
Senior Emily Cross tied for third in the high jump with 5 feet, 1 inch, while also claiming fifth in the 100-meter hurdles with a 15.90 seconds finish. Ferris second-year head coach Steve Picucci was happy with Cross's performance in the 100-meter hurdles.
"Emily had a really good day for us," said Picucci. "She had a good performance and she provides some senior leadership for us."
Claiming another top finish was freshman Zoey Hohmann, who finished third in the 400 meters with a time of 58.95 seconds, along with placing eighth in the 200 meters.
Sophomore Andrea Fogle earned a third-place finish in the discus while junior Amy Joostburns took seventh in the event. The women's team claimed ten top-8 finishes at the event.
For the men, two Bulldogs claimed first-place finishes as the team turned in a strong performance collectively.
Junior Justin Price won the 400 meter race with a time of 48.96 seconds, while also placing ninth out of 48 runners in the 200 meters. His time of 22.79 seconds was .08 seconds behind the fourth-place finisher.
Senior Greg Burns added a top finish in the pole vault while fellow senior Mike Mangieri placed third in the 1,500 meters with a time of 4:03.23.
Though both teams had to fight through some strong winds, freshman runner Tyler Weedon thought that the teams were able to overcome the conditions.
"Any time that it's windy like this, it makes it all that much harder to turn in top times," said Weedon. "I thought that we turned in some good results today and we had a good turnout."
Sophomore Tyler Crossman took third in the 5,000 meter run with a 15:23.26 and the pairing of Price, senior Dan Volk, sophomore Jack Page and freshman Derrick Bartlett resulted in a fourth place finish in the 4×400-meter relay.
The teams will return to action Saturday when Ferris travels to Midland to take part in the Northwood Invitational. With only four meets left until the GLIAC Outdoor Championships, which will also be held at FSU's Top Taggart Field, coach Picucci knows the next few meets will be critical for both teams.
"These next couple of weeks are going to be where we want to start posting our best times," said Picucci. "If we keep up the effort we've had recently, I think we'll be ready by the time the GLIAC championship rolls around." n