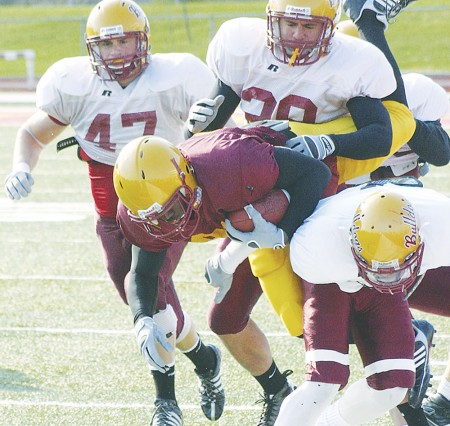 The Ferris State football team is back on the practice field as it hopes to avoid a repeat of last season.
The 2009 season was forgettable for the Bulldogs as the team finished 1-10, losing the final 10 contests of the season. The average margin of defeat in each of the losses was 30 points. Ferris finished 11th in the Great Lakes Intercollegiate Athletic Conference in points allowed per game last season.
NCAA rules state that teams may hold only 15 practices during the spring, 12 of which can be in pads.
The Bulldogs have made the most out of their practices thus far this spring as they are installing a new offense. First year offensive coordinator Chris Boden will be attempting to improve an offense which scored a league-worst 11 points per game last season.
Bulldog head coach Jeff Pierce recognizes that improving the offense is a big priority going into the 2010 season.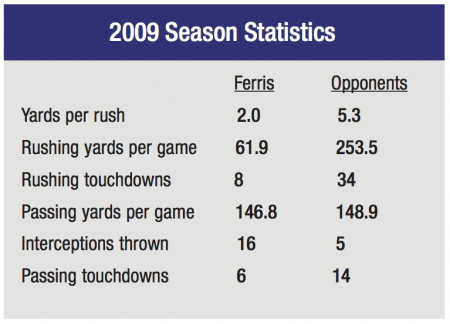 "Right now we're just making sure we're all on the same page and so far it is coming along very well," said Pierce.
The spring practices will be looking to give the returning Bulldogs a leg up on learning the new system before the incoming recruits join the team in the fall.
Over the summer, teams are not allowed to have organized practices. However, they are permitted to participate in strength and conditioning programs, which the athletes will partake in as they hope for a bounce-back season after last year's disappointing campaign.
The Ferris football program has made significant changes to the coaching staff with the additions of a new offensive coordinator and defensive backs coach. The Bulldogs added 25 recruits to the team as well to try to help turn the program back around.
Pierce knows it was a rough year for him and the team. He feels that a strong dedication to the strength and conditioning program will lead to the team putting it all together on the field.
"Right now we're pissed off with a chip on our shoulder and we're going to make the changes that we need to make," said Pierce. n