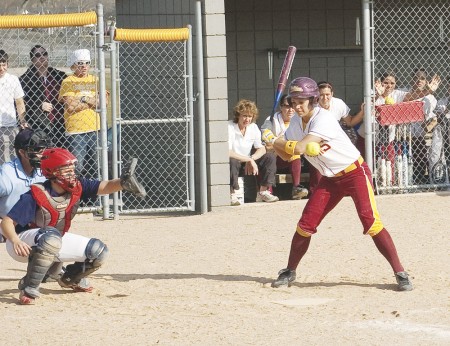 The Bulldogs scored 30 runs in four conference victories over the weekend while snapping their recent losing trend.
The Bulldogs, who received votes in the preseason NCAA Division II Top 25 Poll coming off last season's 35-10 record, had lost five of the last seven games coming into the weekend. Ferris never scored more than two runs in those five games.
With the offense sputtering, head coach Keri Becker knew the team had some work to do.
"It's just about trying to work out the flaws, both mentally and physically," said Becker. "We've got to get our offense going to back up the pitching performances we've had."
The Bulldogs seemed to have worked out those flaws this weekend as they averaged 7.5 runs per game in four conference victories on the road against Findlay and Hillsdale.
Ferris started the weekend with a 10-1 romp over Findlay in the first game on Saturday. The team cranked out a season-high 13 base hits while freshman pitcher Dana Bowler picked up the win by giving up only one hit in four innings and striking out six batters.
Sophomore third baseman Makenzi Peterson pounded a two-run homer on the way to a three-RBI game, while senior designated player Rhea Flores racked up three hits and three RBIs.
The second game of the doubleheader proved to be a closer contest, as junior outfielder Colleen Roney's RBI single was the deciding factor in a 5-4 Ferris victory. With two outs and sophomore first baseman Chelsea Morris on second, Roney knocked a game-winning single off Findlay pitcher Julia Stadler in the bottom of the sixth inning. Flores picked up the victory for Ferris, improving her pitching record to 5-0 this season.
The Bulldogs took the momentum from the Findlay series to Hillsdale on Sunday as they swept a doubleheader against the Chargers.
Ferris dominated the first game 10-2 as senior second baseman Amanda Harrington had five RBIs on two hits and Peterson chipped in three RBIs. Bowler picked up the pitching decision allowing five hits and striking out five hitters.
The Bulldogs completed the doubleheader sweep with a 6-1 victory, racking up an 11-1 advantage in hits as senior pitcher Kayle Stevenson picked up the victory with a nine-strikeout performance.
Though the offense came alive over the weekend, Becker was equally impressed with her pitching staff.
"We haven't even seen them peak as a staff," said Becker. "We always tell the girls to just keep the game close and we'll have a chance."
The Bulldogs will return to action on April 14 with a doubleheader against Grand Valley State at home. With the rest of the contests this season against GLIAC opponents, the team will look to improve on its 16-10 record and improve its position for a conference tournament berth.
"Playing in the GLIAC is like running a marathon," said Becker. "As long as we're peaking at the right time, we'll be ready to make the conference tournament." n