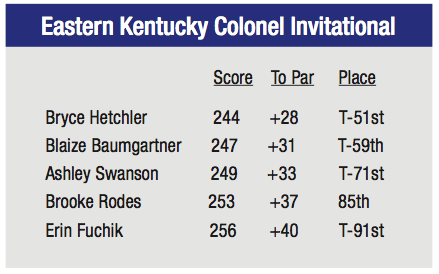 The Ferris State women's golf team finished 15th at the Eastern Kentucky Colonel Invitational over the weekend.
The Bulldogs shot 981 over three rounds, the best three-round score of the season for the team. Morehead State University (Ky.) won the 17-team tournament with 905 strokes. All but two of the participating teams, including the University of Toledo, Ohio University, Bowling Green State University, and the University of Memphis compete at the Division I level. Northern Kentucky and Ferris were the only two Division II programs in the field.
Bulldog head coach Mike Mignano said felt the tournament was successful and said that the he looks at the tournament as a positive experience for the team to be able to play against Division I opponents.
Sophomore Erin Fuchik said she thought the team played really well overall as it marked just their second tournament of the spring season.
"We're really close to playing some great golf," said Fuchik. "There are just a few minor things that all of us need to tweak and then we'll be right there."
Ferris finished 12 shots ahead of Northern Kentucky, which is ranked seventh in the East Region, while Ferris ranks ninth. The top nine teams qualify for the East Regional tournament in Springfield, Mo., which begins May 2.
Sophomore Bryce Hetchler led the Bulldogs with a 244 (+28) over 54 holes, which put her in a three-way tie for 51st. Sophomore Blaize Baumgartner finished with a 247, while freshman Ashley Swanson shot 249 for the tournament.
Sophomores Brooke Rodes and Erin Fuchik rounded out the Bulldogs scoring. Rodes finished with a 253 and Fuchik finished with 256. After a first round 96, Fuchik led the Bulldogs in the second round and was second on the team in the final round. Fuchik said her short game was her biggest setback and the greens were difficult.
"Short game is the key to playing well," said Fuchik, "You can hit the ball all over the place but what matters is around the green and getting the ball in the hole."
The Bulldogs will play in the Tiffin Lady Dragon Invitational on April 18 before coming home for the Great Lakes Intercollegiate Athletic Association Championships at Katke Golf Course. Fuchik is confident that playing on their home course will give the Bulldogs an advantage.
"With the GLIAC Championships being at home and us getting better each week, there's no doubt that we're going to finish top 3, if not win the tournament," said Fuchik.
The top 26 teams in Division II competition are recognized in the NGCA Division II Coaches Poll. Ferris is the first team off the list, garnering 17 points and ranking 27th in the nation. n