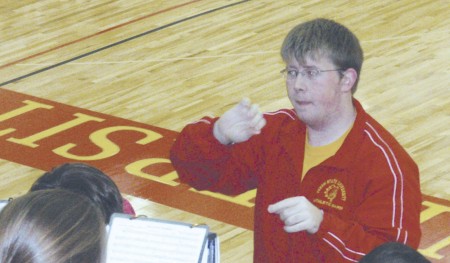 The FSU Athletic Pep Band is prepared to lose a valuable member as student conductor Jason Workman is going to graduate this spring.
The pep band performs and leads cheers at basketball, football, hockey and volleyball games.
"We try to provide a lively and fun atmosphere while staying positive," said Workman.
During his time as student conductor, Workman, who will be graduating from the biotechnology program, has conducted at over 140 events and has led over 3,500 songs.
Steve Wetter, a sophomore in Pre-pharmacy, will assume the responsibilities of conducting the pep band after Workman.
Greg Beers, the associate student conductor with the pep band, said, "The key to being a good conductor is to know how to control your band and be able to get them to play the way you want to. Jason was great at this and it really showed."
Workman has been a member of the pep band since his freshman year and has been student conductor for the past two years. Prior to becoming student conductor, he served as clarinet section leader his freshman year and associate student conductor his sophomore year.
Workman says he first joined pep band because he thought it would be a good opportunity to be a part of a sports band.
"I really thought this would be fun because I have a great love for sports and music."
As student conductor Workman is in charge of planning and conducting rehearsals twice a week. He also plans performances with the game coordinator and the cheerleading and dance team coaches.
"This ensure[s] we all work together to put on a great show," he said.
Workman said there are two things that he is going to miss about pep band: the camaraderie and the music outlet for his academic stress.
"This band spends so much time together that we know just about everything about each other," he said. "This can lead to tense moments, but generally, everybody gets along and enjoys the time we have together."
Junior Drew Heath, a trombone player with the pep band, said, "I'll miss how much work he put into new projects and how he always tried to make sure everything went as smoothly as possible."
"The thing that I'm going to miss most about [Jason] is the attitude he brought to the band," said Beers who is in his second year with the pep band. "He knew that playing at the games was not just about having fun, but also about performance."
Besides serving as student conductor, Workman plays clarinet for the FSU Symphony Band, is a member of the Honors Program, and serves as president of Delta Nu Alpha, the Biotechnology Fraternity.
He is also a lab assistant in the biochemistry lab and worked as a volunteer lab technician this past summer.
Workman has been invited to conduct a piece to be performed by the combined West Chamber Concert Band, symphony band, and orchestra at Ferris' 125 anniversary concert.
Looking back upon his tenure with the pep band, he said, "I feel that musically, I have left a legacy. It's not a big one, but I feel like there are a few great achievements I can
hold on to." n