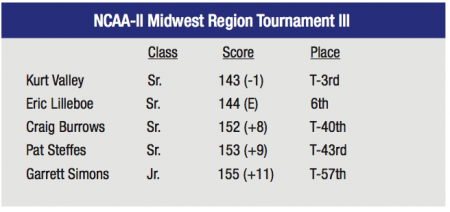 The Ferris State men's golf team took second place in the Midwest Region Tournament III in Noblesville, Ind. over the weekend.
Senior Kurt Valley led the way for the Bulldogs as he recorded a team-best 143, which placed him tied for third overall. Senior Eric Lilleboe was close behind as he finished sixth overall with a score of 144, which was even par for the 36-hole tournament.
As a team, Ferris finished with 592 strokes, which was 12 shots behind tournament winner Wayne State which finished with a 580 (+4). Wayne State came out on fire as they shot a 12-under par to take a 10-stroke lead over Ferris after the first round. The Bulldogs played two solid rounds, but were unable to catch the Warriors after their fast start.
Ferris head coach Mike Mignano said he was very happy with a second-place finish. The field consisted of 23 teams from Michigan, Ohio, Indiana, Illinois, Wisconsin, and Missouri.
"Obviously everyone wants to win, but you have to look at each week as a success knowing that you did your best and you were prepared," said Mignano.
The tournament marked the second in a row in which Ferris finished as the runner-up. The Bulldogs will next be traveling to Findlay, Ohio to compete in the Findlay Outback Steakhouse Invitational on April 16.
Though Ferris did not win the tournament over the weekend, Mignano feels that the team is still playing very well. He said the team continues to work on the things they need to individually to improve from week to week.
"We were close and sometimes, in the game of golf, it just doesn't go your way," said Mignano.
Ferris will be hoping to continue their solid play and claim their fourth first-place finish of the season. The Bulldogs have finished either first or second in six tournaments this season. The team's last first-place finish was on Oct. 12, 2009 at the Wayne State Motor City Invite. n