The Ferris State softball team defeated Grand Valley State 2-0 in the second game of a doubleheader after falling 1-0 in the first contest.
After splitting two games with the Lakers, Ferris is 17-11 overall this season and 7-4 in Great Lakes Intercollegiate Athletic (GLIAC) play. The Bulldogs are sixth in the conference standings with 15 league contests still to play.
Grand Valley pitcher Katie Martin allowed four hits and struck out seven batters in seven scoreless innings in the opening game of a doubleheader on Wednesday afternoon. Martin sat down the first nine batters of the game in order before allowing a bunt single in the fourth inning.
Bulldog freshman pitcher Dana Bowler went the distance allowing one run and three hits in the loss. Bowler recorded ten strikeouts as her record dropped to 5-5 this season.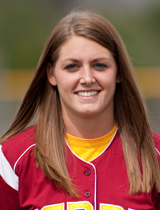 In the second game, Ferris turned to senior pitcher Kayle Stevenson and she pitched seven scoreless innings in the Bulldog victory. Stevenson allowed three hits and four walks and improved her record to 6-6 overall.
Junior catcher Rachel Mueller and senior center fielder Rachel Wade provided RBIs for the Bulldog offense.
Ferris will be back in action at home this weekend with a doubleheader against Tiffin on Saturday and a doubleheader against Ashland on Sunday.