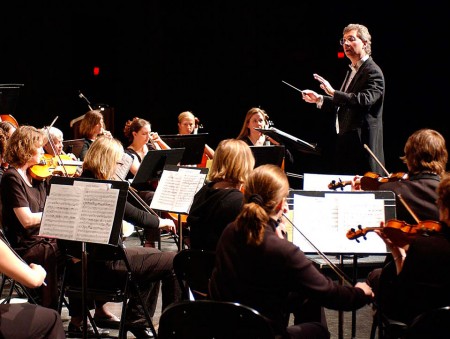 Ferris State University will be putting on its 125th anniversary Band and Orchestra Concert tonight.
"For this concert there are a lot of special things happening," said Dr. Richard Cohen, musical director and professor at FSU.
The concert will feature the FSU Symphony Band, the FSU West Central Concert Band, and the FSU West Central Chamber Orchestra with a special appearance by the FSU Athletic Pep Band. The orchestra and bands will combine to form the 125th Anniversary Band. Cohen will conduct the performance with Dale Skornia as assistant conductor.
There will be a special video presentation by Jeff Gabalis, FSU digital media specialist, and a reenactment of Woodbridge Ferris by Richard Santer, former FSU professor, with special commentating by FSU President David Eisler.

The various musical groups will play selections such as "Ferris Fidelity" and "Fighting Bulldogs" to commemorate the 125th anniversary of the university. Other selections will include Brahms' "Symphony No. 4," which was performed in 1884 when Ferris first began and Mozart's "Eine Kleine Nachtmusik." Each piece of music being played has a special connection to the university's past.
The musical groups will also be premiering two pieces written by two Ferris professors. "Fanfare 125" was composed by Cohen in honor of the 125th anniversary of the university. "Echoes of a River Town" was composed by Ferris professor Harry Dempsey.
"Echoes of a River Town" was written to commemorate the history of Ferris. The first movement of the piece celebrates the heritage of the university and it is named "Old Main" after the university's original building. "Trestle Bend" is the second movement of the piece and is a tribute to the logging and railway legacy of Big Rapids. The final movement is "The Phoenix," which celebrates the resurrection of the university from its ashes after the great fire to the vital institution it is today.
The concert will take place tonight at 8 p.m. in Williams Auditorium. Admission to the event is free and there will be a reception in the lobby of Williams immediately following the performance.