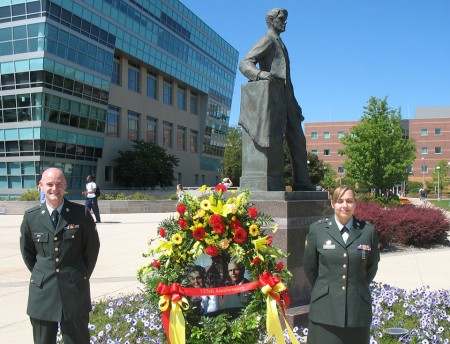 Ferris State University's 125 Celebration will feature a week of events beginning April 19 and lasting until April 24.
The events are a celebration highlighting the past, present and future of both Ferris and the Big Rapids community.
The celebration will begin April 19 with a community briefing hosted by President David Eisler in Big Rapids Middle School's Cardinal Hall. The briefing will discuss the partnerships between Ferris State and the Big Rapids community.
Music industry management major and Big Rapids native Jessica Attebery said Ferris' 125 Celebration is not only a celebration of Ferris, but also of Big Rapids. Attebery feels the event will reflect the relationship between the university and the city of Big Rapids.
"Ferris offers enormous benefits and opportunities to the small town of Big Rapids," said Attebery. "In turn, Big Rapids has provided Ferris with countless resources and support."
On April 21, the celebration will continue with the reader's theatre production "Vignettes into the Life of Woodbridge N. Ferris." The event will begin at 1 p.m. in the Rankin Center Dome Room.
FSU's West Central Chamber Orchestra and Symphony Band will also have a combined 125th Anniversary band and orchestra concert on April 21 at Ferris' Williams Auditorium at 8 p.m.
Ferris' 125 Celebration will also include a first-ever presidential symposium featuring a gathering of former Ferris presidents in Williams Auditorium from 2 to 4 p.m. followed by the 125th Birthday Celebration at the Holiday Inn in Big Rapids at 6 p.m.
The FSU Choir and Jazz Band along with returning alumni from the last ten years will also be performing in Williams Auditorium at 8 p.m. on April 24.
Freshman Melanie Blaszak said Ferris' tradition of celebrating its long history with the community helps strengthen the relationship between faculty, students and community members.
"The 125th anniversary helps us recognize that we are part of a long tradition in education and that brings us closer together as a community," said Blaszak. "It's good to recognize that Ferris has been around for a long time and celebrate some of the history of our school."
For more information regarding Ferris State University's 125 Celebration, contact 125th committee member Mary Maciver at maciverm@nullferris.edu. n