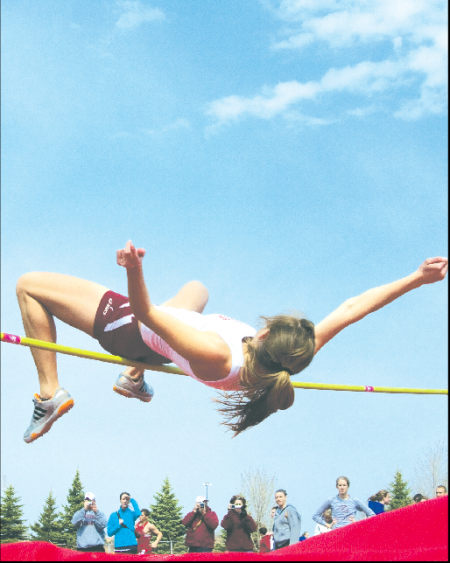 Ferris State senior high-jumper and hurdler Emily Cross is sad to see the end of her final season of collegiate competition draw near.
A 21-year-old pharmacy student from Riley, Cross has seen her share of successes in track and field over the last four years and this season has been no exception. She is the lone high-jumper for the Bulldogs, both men and women, and she also runs the 60-meter and 100-meter hurdles. Cross said indoor track went very well, but said it has been an uphill battle in the outdoor season.
During the indoor season, Cross earned five top-eight finishes in the high jump, including three top-three finishes at the seven meets she competed in. She took sixth place at the Great Lakes Intercollegiate Athletic Association Indoor Championships in late February. Cross won the 60-meter hurdles at the Saginaw Valley State Collegiate Classic on Jan. 29.
"I hurdled the best I have hurdled since high school and in high jump I definitely got back on track," said Cross.
After not competing in the North Carolina State Raleigh Relays, Cross has finished sixth or better in each of her previous three meets in outdoor track. She jumped a season-high 5 feet 7 inches at the Northwood Invitational on Saturday, finishing tied for second in the event.
Hard work and support have been instrumental in Cross' success both in the classroom and on the track. The track teams practice Monday through Friday every week and are constantly working to improve.
Second-year head coach Steve Picucci has been involved with the Ferris track program since Cross's sophomore season when he became a volunteer assistant. Cross said she got to know him pretty well at practices and the meets before he became the head coach prior to the 2009-10 season. Picucci said that Cross provides senior leadership for the team.
Cross said her parents have been her biggest supporters and have missed a very limited number of track meets throughout her ten years in track and field, including college. She said none of what she accomplishes would be possible without their support.
As one of two seniors on the Ferris women's track team, Cross has had to step into a leadership role and has been a mentor to many of the athletes. Junior sprinter Jade Kaufman said Cross took her under her wing when she arrived at Ferris.
"She has helped me a lot, not just to motivate me for track, but she has been there for me through the stressful times of just being in college and balancing track and other activities," said Kaufman. n