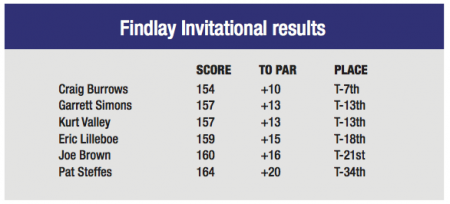 The Bulldogs claimed a second-place finish at the Findlay Invitational over the weekend, marking the third straight runner-up finish for the team.
Coming off consecutive second place finishes at two NCAA-II Midwest Region Tournaments, Ferris shot an opening round 316 before it bounced back with a second-round best of 310. The Bulldogs finished with a two-round 626 (+50), good for second among 12 competing teams. The top four scorers for each team count towards the overall team score.
Fellow GLIAC member Grand Valley State claimed the top spot in the tournament with a score of 616 (+40) at the par 72, 7,155-yard Red Hawk Run Golf Course in Findlay, Ohio.
Leading the way for the Bulldogs was senior Craig Burrows, who shot a second-round low of 73, tying Wayne State's Joe Juszczyk for the best second round. Burrows tied for seventh place overall, two strokes behind the winner. Burrows said the team learned from its mistakes in the first round and used that knowledge in the second round.
"We didn't really know what to expect on the first day. With some strong winds making adjustments is difficult," said Burrows. "But we learned how to play with the conditions and to play with the weather in the second round, which really improved our play on the second day."
Senior Kurt Valley and junior Garrett Simons shot a 157 for the tournament, finishing in a three-way tie for 13th place. Senior Eric Lilleboe followed two strokes behind with a 159 to claim a share of 18th place.
Junior Joe Brown finished with a 160 on his way to a tie for 21st place, while senior Pat Steffes recorded a 164 in only his second tournament of the season to finish in a four-way tie for 34th. Ferris head coach Mike Mignano said he was very pleased with the effort his team put forth over the weekend.
"The one thing I love most about this team is that they pick each other up when someone else is having a rough day," said Mignano. "I am very pleased with the effort from the guys."
With the recent trend of high finishes, the Bulldogs will look to continue their strong play at the Michigan State Fossum Invitational on April 24-25. The Fossum Invitational will pit the Bulldogs against Division-I teams. Although Ferris will face off against some tough competition, the team is confident that it can break the recent streak of runner-up finishes and take the top spot in the tournament.
"If we put together two solid days at Michigan State I think we'll have a good chance of getting over the hump and finishing first," said Burrows. "It's going to be a great test with Division-I competition, but I think our leadership will let us have a good showing and show people that we're a good team." n