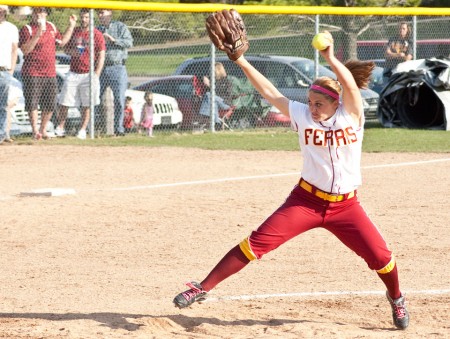 Softball head coach Keri Becker recorded her 400th career victory on Saturday in a 4-1 victory over Tiffin University.
The Bulldogs won four of six games over the weekend and have won nine of their last 12 games overall. Ferris improved to 20-13 overall this season and 11-6 in the Great Lakes Intercollegiate Athletic Conference. The Bulldogs improved to fourth in the conference standings.
On Saturday, Ferris lost 4-3 to Tiffin in the first game and won the second game of the doubleheader 4-1. Becker, in her 13th season with the bulldogs, is the all-time winningest coach in FSU softball history with a career record of 403-250-1.
With the GLIAC Tournament three weeks away, Becker says that she thinks a handful of teams will be all jumbled up. The top seven teams in the conference standings are separated by six games or less.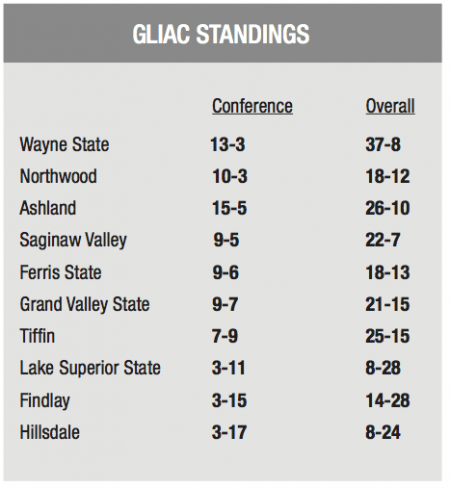 "I think everybody is going to have about the same amount of wins and the same amount of losses," said Becker. "It's really going to be a crapshoot for who's going to be in the tournament, which makes it exciting."
Ferris played six games in three days over the weekend with home double headers against Tiffin and Ashland, followed by a doubleheader at Lake Superior State on Monday. The Bulldogs swept Lake Superior 9-0 and 6-5 after winning one game against Ashland and one against Tiffin.
Ferris freshman pitcher Dana Bowler threw a three-hit shutout against the Lakers for her sixth victory of the season. The Bulldogs scored six runs in the top of the first inning and Lake Superior was unable to gain any momentum the rest of the way.
In the second game, Ferris senior pitcher Kayle Stevenson earned her ninth victory of the season surrendering nine hits and one earned run. The Bulldogs committed five errors and allowed two runs in the top of the seventh inning, but held on for the victory.
The Bulldogs showed they could tussle with teams in the GLIAC and the region with a 3-1 win over NCAA Division II Midwest Region No. 2-ranked Ashland on Sunday. Ferris allowed five hits and committed no errors in the victory. Sophomore first baseman Chelsea Morris hit a two-RBI single in the fourth, helping the Bulldogs get the victory.
"Being able to steal one from Ashland is a good accomplishment because Ashland is a very good team," said Becker.
Splitting the weekend was not what Becker had in mind, but with a 6-3 loss in the first game of the doubleheader, that is all she could hope for. Ashland managed to bat in six runs on eight hits and Ferris committed three errors in the loss.
"The offense needs to do their job a little bit better with a little bit more timely hitting," said Becker.
Pitching has kept the Bulldogs in games and Becker said she plans to rely on pitching to help the offense throughout the end of the season. Ferris has allowed five or more runs once in its previous nine contests. Becker said the pitching has kept the team close most of the season and will rely on the pitching for the rest of the year. n