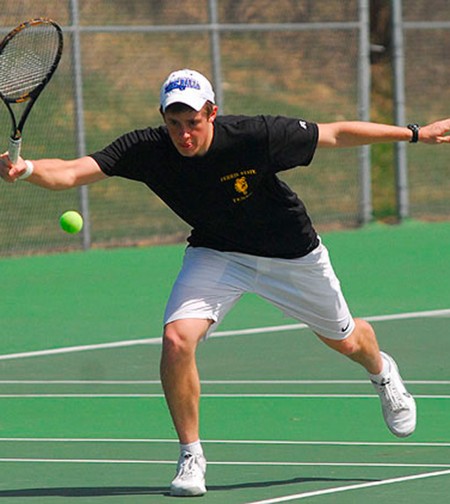 The Bulldogs took third place in the GLIAC Championship Tournament in Midland over the weekend.
The Bulldogs, who were the two-seed entering the competition, split the first two contests on Saturday, earning a spot in the third-place contest in the tournament.
Ferris started the weekend by blanking seventh-seed Tiffin University in round one 5-0. The Bulldogs stumbled in the semifinal match against third-seeded Wayne State with a 5-2 defeat at the Midland Community Tennis Center.
The Bulldogs swept the doubles round against Tiffin, while taking the first two singles matches against the Dragons to advance to the semifinal round.
Ferris could not keep the momentum going in the semifinals, though, as Wayne State jumped out to a 2-1 advantage in the doubles competition and claimed three of the first four singles matches for the victory.
With the chance to win the tournament gone, the Bulldogs headed into the third-place match against fifth-seeded Grand Valley State looking to improve their record and their chances at receiving a spot in the NCAA Division-II Tournament.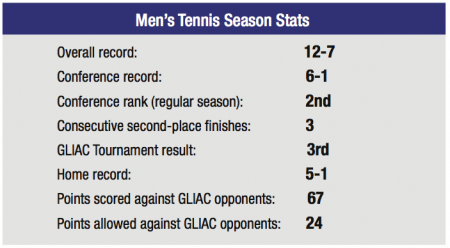 Grand Valley jumped out to a 2-1 lead in doubles competition as the pairing of senior Kyle Revall and junior Steven Roberts took the lone doubles match for Ferris with an 8-4 victory.
But the Bulldogs bounced back and took control of the singles competition, sweeping the four matches to take the contest with a 5-2 decision. Ferris finished the season 12-7 overall and 6-1 against conference opponents. Revall said taking third place was bittersweet.
"We are definitely not content with a third-place finish," said Revall. "But it was nice to take down our rival quite handily."
With a third-place finish in the GLIAC Championship to finish the regular season, the Bulldogs, who are currently ranked 38th nationally in the latest Campbell's Intercollegiate Tennis Association (ITA) Division II national rankings, will have to wait until April 28 to find out if they will be included in the NCAA Division II Tournament. Revall said the team is in line for a sixseed in the tournament.
"We have a good chance of upsetting some teams once the tournament begins," said Revall. "We're really looking forward to getting a chance to play for the national championship." n