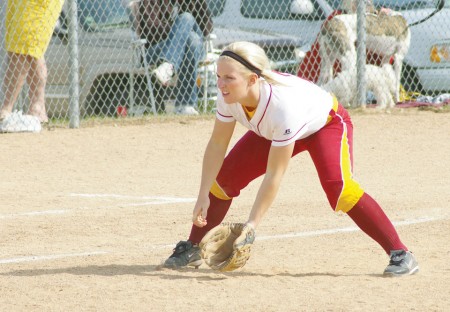 The Ferris State softball team answered a tough challenge over the weekend as they won three of four games against two ranked opponents.
Ferris head coach Keri Becker feels that her team's consistency is a big reason why the Bulldogs were able to have this late season success.
"I am very happy coming away 3-1 from the weekend," said Becker. "We played really well and we could have easily been 4-0."
Senior Rhea Flores made sure the weekend got off to a winning start against nationally No. 17-ranked Saginaw Valley State as she hit a game-winning single in the top of the seventh inning for a 6-5 Bulldog victory. Flores' RBI single capped off a three-run seventh inning, which Saginaw Valley was unable to overcome in the bottom of the inning.
In the second game of the series the Bulldogs came away victorious as they won a pitcher's duel 2-0. Ferris senior Kayle Stevenson recorded the win as she pitched a complete game shutout for her 10th victory of the year. Stevenson limited the opposition to three hits and one walk as she notched her fifth shutout of the spring.
"I felt really good out there on the mound and I had really good defense behind me," said Stevenson.
In the opening game against nationally ninth-ranked Wayne State, Ferris took a 2-1 lead into the bottom of the sixth, but was unable to hold on as it ultimately fell to the Warriors 3-2. Freshman pitcher Dana Bowler threw a solid outing despite the loss as she allowed six hits, two walks, three runs, and five strikeouts.
It was another low-scoring battle in the final game of the weekend as the Bulldogs beat Wayne State 2-1. Stevenson pitched another gem as she allowed five hits on her way to another complete game win. The victory was her seventh in a row as she allowed only one run in 14 innings during the weekend's road trip.
"Our pitchers are doing a great job on the mound," said Becker. "All year I have been telling them to just keep us close and we will be in a lot of games."
After this weekend the Bulldogs are 23-15 overall and 14-8 in the conference. The Bulldogs are 9-1 on the road this season with four away contests left in the regular season.
Ferris will play Grand Valley State on May 1 in a two-game series before they will participate in the GLIAC tournament.
"Playing all these close games will help us in the tournament," said Becker. "We want to be playing well against these tough teams."
Stevenson feels that every day and every game the team is getting better.
"Every game we're stepping up and doing the little things," said Stevenson. "Heading into the tournament we really like our chances."
The Bulldogs played a doubleheader at Northwood on Tuesday, but the results were unavailable as of press time. Check out fsutorch.com for results and details from the games. n