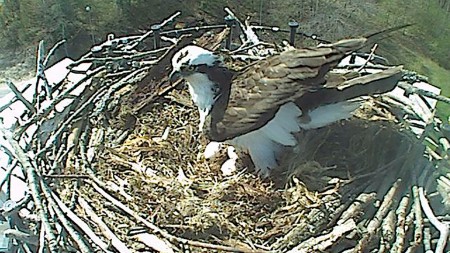 A pair of nesting osprey at Ferris has inspired the university to take action in a project that has become an internet sensation.
The Osprey Web Cam Project was initiated in the fall of 2008 in hopes to broadcast images of nesting osprey for the Ferris community and surrounding area.
However, the project has drawn in viewers from outside the area as well. Numerous grade schools and nature centers have incorporated images from the Osprey Web Cam Project into their curricula and images from the web cam have reached out oversees to countries such as England, Germany, India, and El Salvador.
The nest is located atop a light pole in the parking lot behind the Swan Building.
The pair currently has three eggs and a fourth was expected to be laid over the weekend. The incubation period is around 37 days from the time the first egg was laid, which was April 14.
Dr. Paul Klatt, one of the members of the group that oversees the project, said he first came up with the idea for the camera setup from a peregrine falcon camera project where he went to graduate school in North Dakota.
Klatt said the purpose of the project is to take advantage of a unique situation that allows for real time behavior to be brought into the classroom.
Nest building, courtship, feeding, egg laying, incubation, hatching, and chick feeding behavior are among some of the detailed observations by students in biology courses such as Animal Behavior, Natural History of Vertebrates, and General Biology I and II.
"Ferris has everything to gain from [this] project," said Klatt. "In addition to classroom enhancement and curricula use off campus, I believe the project reflects a positive environmental awareness that almost becomes contagious."
Klatt said osprey are also often used as an indicator of how environmentally healthy a particular area is.
He said, "In other words, if the campus osprey are doing well, perhaps we are doing something right out there."
The resident osprey and the Osprey Web Cam Project were recently featured in the "Jack Pine Warbler," a magazine published by the Michigan Audubon Society.
Information regarding osprey as well as images from the Osprey Web Cam can be observed at ferris.edu/osprey. n