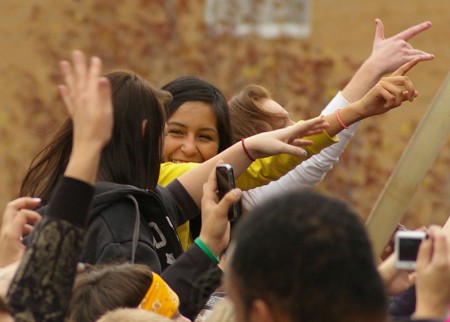 Ferris Fest performers enjoyed their opportunity to play at Ferris State University this past Saturday.
A crowd covered the quad on Saturday as various musical acts performed throughout the day. Students and community members enjoyed free food, free tattoos and activities, a dunk tank, and the chance to meet some of the acts and get their autograph.
Chuck Wicks, country performer at Ferris Fest, said, "It was awesome playing at Ferris. I was concerned about the rain at first and thought I might only be playing to a crowd of three people, but I ended up playing to a bigger crowd than I expected."
Wicks went on to say, "It was a great experience performing at Ferris and I want to come back."
Mike Posner, rap and hip hop performer at Ferris Fest, was very excited he was able to meet with students after his performance and he gave out hugs to everyone. He said overall, performing here was a lot of fun.
Despite the questionable weather, Ferris Fest 2010 seems to have been well received by Ferris students and the community.