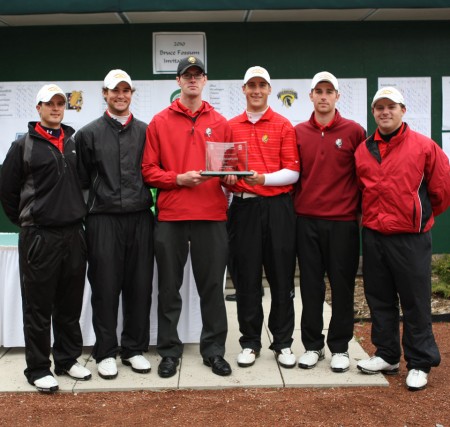 After three straight second-place finishes, the Bulldog men's golf team nabbed a tournament victory at the Fossum Invitational at Michigan State over the weekend.
With its last tournament victory being in the fall season, a first-place finish at the Wayne State Motor City Invite in October, Ferris finally got over the hump by firing a final round low of 289 on its way to an 879-stroke first-place tie with host Michigan State. Ferris was one of seven teams taking part in the three-round tournament at the Forrest Akers West Golf Course.
The Bulldogs took advantage of some stellar individual play on their way to the first-place tie, as three of the five Bulldog golfers finished in the top five individual slots for the tournament. Coach Mike Mignano said the play of the team was the best he has seen all year.
"This weekend was one of the biggest wins in our program's history," said Mignano. "This past weekend showed that anything is possible for the rest of the season and I couldn't be more proud of this team."
Pacing the team was senior Kurt Valley, who shot three rounds of 72 on the way to a third-place finish with a total score of 216.
Junior Garrett Simons finished the tournament with a 217, coming in at fourth place behind Grand Valley.
FSU senior Eric Lilleboe followed in fifth place with a total score of 220 for the tournament while junior Joe Brown finished tied for ninth place with a 221, including a first-round score of 68 that was one stroke off from the best round of the tournament.
Rounding out the field for Ferris was senior Craig Burrows, who shot a 226 on the way to a tie for 17th, and fellow senior Pat Steffes, who tied for 32th with a 233-stoke total. Burrows said this team is one of the deepest teams he's ever played for.
"We've shown that we can play well at any given time," said Burrows. "It's nice to show people that we can compete against a higher level of competition and come out on top."
With the regular season in the books, the Bulldogs will ride the momentum of the first-place finish at Michigan State into the NCAA-II Super Regionals. The tournament will take place May 3 through 5 in Duncan, Okla., and will be hosted by Cameron University. Ferris finished tied for fourth at the Super Regional last season, which was hosted by Grand
Valley State. n