The Bulldogs finished tied for seventh at the 2010 Men's Golf Championships, representing the highest finish in school history.
The Bulldogs finished eighth in the national championships last year and this season marked the school's 14th appearance in program history in the event. The Bulldogs, who finished the season ranked 24th in the final Golf World/Nike Golf Division II Coaches' Poll of the spring season, started out strong in the opening round with a team score of 305 to move into third place.A second-round 310 pushed Ferris down to eighth place. The Bulldogs shot 308 and 309 over the final two rounds to finish with 1,232 (+80) strokes. Twenty teams took part in the tournament.
Ferris senior Kurt Valley, who recently was named to the All-GLIAC First Team for his third straight all-conference nod, led the way for the Bulldogs with a three-round total of 227 and a tie for 18th place.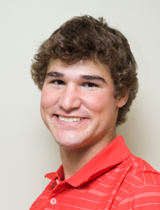 Fellow senior Eric Lilleboe ended the tournament with a score of 232 in his final collegiate tournament, placing tied for 38th overall. Lilleboe was named a 2009-2010 Division II Men's Golf PING All-America First Team selection and earned his second consecutive GLIAC Men's Golf Athlete of the Year award this season.
Junior Joe Brown finished in a tie for 49th place by shooting a 234 for the tourney while senior Craig Burrows, an All-GLIAC honorable mention for 2009-2010, finished one stroke behind Brown to end the tournament in a 54th-place tie.
Rounding out the team score for Ferris was junior Garrett Simons, who joined Valley and Lilleboe on the All-GLIAC First Team for his first all-conference honors of his career. Simons finished with a three-round score of 240 to claim part of a tie for 77th place.
The Bulldogs can look back on a season where they claimed a top-three finish in nine of the 12 tournaments they participated in during the 2009-2010 season under third-year head coach Mike Mignano. Ferris also claimed or shared first place in four tournaments during the season, including a win at the Michigan State Fossum Invitational on April 25 against Division I competition.