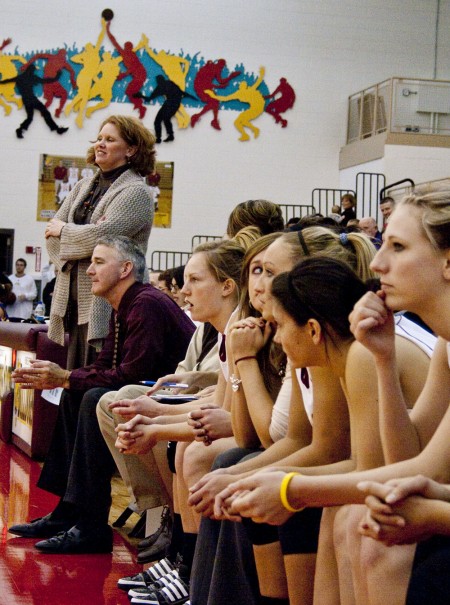 Of the 10 coaches in the varsity sports at Ferris State, nine of them are from Michigan.
The lineage of Ferris coaches has always had local ties and the current group is no exception. Three of the nine coaches from Michigan even attended Ferris for their secondary education. They are from all different parts of the state, from Sault Ste. Marie to Ypsilanti.
Mike Mignano, head coach of the men and women's golf teams, received his master's degree in Business Administration this year after going through the Professional Golf Management program at Ferris a four years before.
Conference ties
Some of the Bulldog head coaches served as assistants at other universities in the Great Lakes Intercollegiate Athletic Conference before becoming head coaches at Ferris. Men's basketball head coach Bill Sall served as an assistant coach at Hillsdale for four seasons, while head softball coach Keri Becker assisted at Saginaw Valley State for two years.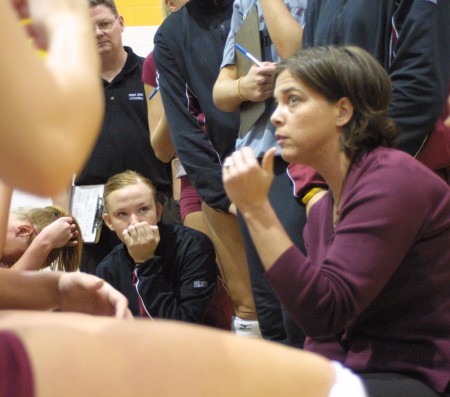 Many of Ferris' head coaches competed at GLIAC schools including Bulldog head football coach Jeff Pierce, head track and cross country coach Steve Picucci, head women's basketball coach Tracey Dorow, Becker and Mignano. Their past experience with schools within the conference helped prepare them for the competition they would face.
"I think that familiarity with the GLIAC is always a plus in hiring a coach," said Becker
Knowing a particular area in a state or country is especially important in the ranks of recruiting. The more a coach knows about a certain area, the better he or she will be able to contact local high school coaches and develop relationships with numerous people. Sall said recruiting has become more about the relationships with high school and Amateur Athletic Union (AAU) coaches.
"That's where knowing people and having the network set up already helps a ton and I think being here in Michigan makes a big, big difference," said Sall.
Becker said the GLIAC is among the strongest conferences in the nation for Division II athletics.
"The league really helps us as an institution in terms of finding good quality coaches," said Becker.
Bob Daniels, head coach of the Bulldog hockey team, also played within the conference in which he now coaches, the Central Collegiate Hockey Association, at Michigan State.
Michigan is home
After graduating college, many people find themselves wanting to leave of Michigan. Many people simply go wherever there is a job available. For Mignano and Becker, however, the old adage "there's no place like home" rings true.
Mignano moved to California after graduating from Ferris for internship at Torrey Pines Golf Course. After six months, Mignano said he was home sick and a graduate assistant position opened up in the Ferris golf program. He wanted to pursue a master's degree and ultimately wanted to get into coaching or teaching.
"Ferris has always been my home," said Mignano, "It kind of worked out perfectly."
Becker she said her family is in Michigan and she never considered moving out of state. Since graduating high school Pierce, Sall, Picucci, and Becker have always lived in Michigan.
All about opportunity
In order to get a job regardless of the position, an opportunity has to present itself. Picucci was looking for employment in the automotive industry when he was offered a job as an assistant coach. He said he was looking everywhere and just had not found a job at the time.
"To get the coaching job, I was just in the right place at the right time," said Picucci.
Becker was in a similar situation. After graduating from Saginaw Valley, Becker was in the process of becoming a state police officer when former Ferris women's basketball coach Dana Monk contacted her about the open position as a softball coach. Becker said she applied jus to see what would happen and planned on coaching for a few years until she figured out what she wanted to do.
"I think it's about opportunity," said Becker. "I think sometimes things choose you before you choose them."
Prior to coming to Ferris Sall, Becker, Dorow and Daniels had not been head coaches at the collegiate level. Each of them has now been at Ferris for eight years or longer and seen success. Picucci said smaller schools are more likely to hire coaches with less experience.
"The smaller schools are more apt I think to take a chance on a coach, rather than going by just pure what the resume says," said Picucci.
The opportunity has paid off as Pierce, Daniels, Becker and volleyball head coach Tia Brandel-Wilhelm are the winningest coaches in Bulldog history in their respective sports.