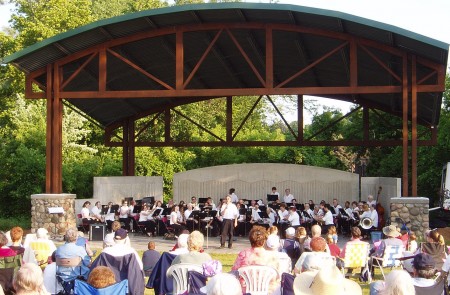 The Ferris Community Summer Band will perform two concerts this week, marking the third and fourth concerts in the annual Big Rapids Band Shell Summer Concert Series.
The first concert will take place June 23 at 7 p.m. at the Big Rapids Band Shell in Hemlock Park. It will have Red Hot Chicago hot dogs and refreshments provided by Pepper's Deli and Cafe and admission is free. The second concert will take place June 24 at 7 p.m. in Centennial Park.The concerts have different musical selections and will feature a variety of music ranging from Broadway musicals to marches and big band classics. The concerts will also feature local soloist artists including vocalists and musicians. FSU President David Eisler will also be guest conducting.
The band is celebrating its 45th year of joining the campus and the Big Rapids community together through music.
Two additional concerts will be performed later this summer. One will take place on June 30 at 7 p.m. and the other will be held July 7 at 7 p.m. Both concerts will be at the Big Rapids Band Shell.
Musicians from the area are invited to perform in the concerts at no cost. It is open to high school and college students, area adults, and advanced middle school students as well. In order to perform in the concerts, musicians must attend the rehearsal beforehand.
Rehearsal dates, times, and locations, as well as additional information on all upcoming concerts can be found be contacting Dr. Richard Cohen at rscohen@nullferris.edu.