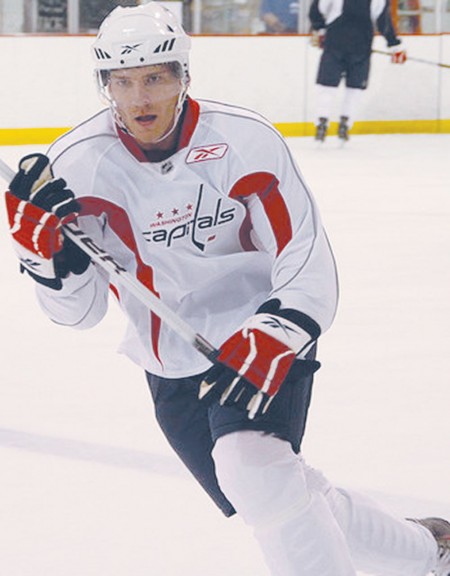 While many college students spent their summer vacations with internships and summer jobs, Ferris hockey player Eric Alexander spent his summer impressing NHL executives.
Alexander, a sophomore forward for the Bulldogs, was a non-drafted invitee to the Washington Capitals summer developmental camp. While there, he raised expectations for his sophomore season after being named to the all-camp team by Capitals head coach Bruce Boudreau.
Though Alexander impressed his coach enough to be named to the all-camp team, it took just one goal to gain the attention of Capitals General Manager George McPhee, who said that Alexander's first goal of the camp was the best shot he had seen at a developmental camp.
With high praise coming from an NHL executive, Alexander knows that he has opened some eyes at the professional level.
"It was a really cool feeling when I heard that Mr. McPhee was so impressed with my goal, especially with all of the talent that has come through that camp in the past," said Alexander. "I'm glad that I was able to open a lot of eyes at the camp and it was an awesome time."
Coming off a freshman season where Alexander scored three goals in limited playing time, higher expectations are something that Alexander knows he will have to confront after a strong summer camp.
"My coaches already have high expectations not only for me, but for the whole team," said Alexander. "But I certainly think that I'll have a little more pressure on myself to perform well this season with all of the seniors that we lost from last year."
Although expectations are on the rise for Alexander, making improvements to his game is the main goal at the moment.
"I think I probably improved my quickness in making decisions on the ice, especially since I was playing with some of the best players in the world around my age," said Alexander. "My expectations for this year are to just do a lot better than I did last year and I personally feel that I need to produce for my team to help us reach our goals."
The Bulldogs open the 2010-2011 season at home on Oct. 2.n