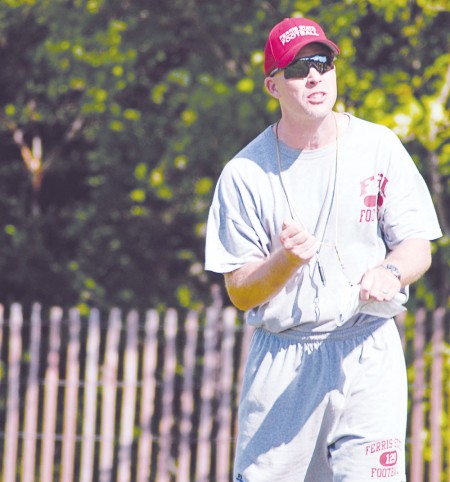 After a 16-year absence from his home state, Chris Boden is having a homecoming as he has joined the Bulldog football staff.
After graduating from Saginaw Valley State in 1990, Boden began his coaching career as a graduate assistant with Central Michigan. In 1994, after he received his masters degree, he left the confines of the Great-Lake state in order to pursue his coaching career. In those 16 years, Boden has held coaching positions in Ohio, Georgia, Texas, and South Dakota, where he was the head coach of Northern State for five years.
"I'm excited to coach here, it's always good to be home and be able to raise my children where I grew up," said Boden.
Boden has taken over the team's offensive coordinator position as he attempts to turn around an offense which struggled in 2009. After being a head coach for five years, Boden is relieved to leave all the stresses of head- coaching behind and being able to focus solely on being the best offensive coordinator he can be. He will need all of that focus and more as he attempts to rejuvenate an offense that averaged 11 points per game in 2009. Boden hopes to use a fast-paced and aggressive offense to keep defenses unbalanced as they attack the opposing team's weaknesses.
"I am going to put players in position to have success and have fun," said Boden.
Boden hopes to get the Bulldog offense turned around and find a place where he and his family can live and grow without moving every several years.
"I'm excited to be here at this great school, it is a good opportunity for me at a good time in my life," said Boden. n