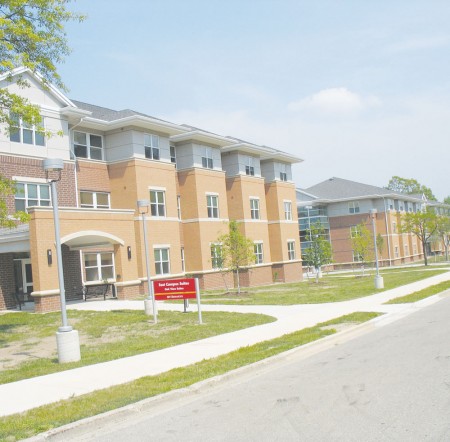 Ferris State University will open its newly renovated East Campus Suites for the fall 2010 semester.
With a $22 million dollar renovation price tag, the trio of three-story "green" suites offers accommodations for 100 students each. Built on the site of Buildings A-G near Ives Street and Damascus Drive, this new style of on-campus housing combines both apartment and dorm-style living with amenities such as air conditioning, dishwashers and elevators. There is also on-site recycling collection and covered bicycle storage.
Ferris implemented the U.S. Building Green Council's LEED (Leadership in Energy and Environmental Design) standards in the East Campus Suites renovation; making it the first LEED certified housing option on campus. Adhering to LEED standards conserved resources and reduced construction and demolition waste on the nearly 16-month project.
"We hope students appreciate the time we took on making sure these were durable buildings that will last," said Michael Hughes, Associate Vice President for FSU's Physical Plant organization.
Hughes also said it was important to find ways to recycle used materials on the project.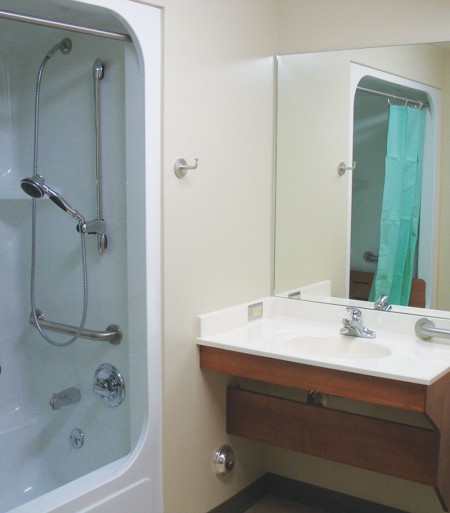 "A high percentage of the brick from the outside of the old building was used to build the parking lot for the new buildings," said Hughes.
There are a total of 24 four-bedroom and two, fully furnished two-bedroom suites.
According to Angela Palmer, FSU Housing Department Manager, residents will appreciate the newness and modern feel of the new suite style set up.
"It's nice to have new, updated residential buildings on campus," said Palmer.
The East Campus Suites official name had been chosen from entries submitted in a contest last fall and is pending approval from President Eisler's office and the Board of Trustees. They are only available for students who will be 20 years of age or older by the first day of classes in the fall semester.
Rent for an academic year, which includes the fall and winter semesters, is $5,850 per student in a four-bedroom suite, and $7,200 per student in a two-bedroom suite. According to Hughes, the new buildings reached maximum occupancy quickly.
"They were fully leased in only two weeks," Hughes said.
The new East Campus Suites offer Ferris students a new style of eco-friendly living filled with modern amenities and were built with students' needs in mind.
"The housing department is confident that the suites will be comfortable for all residents," said Palmer. "After all, we want students to enjoy them." n