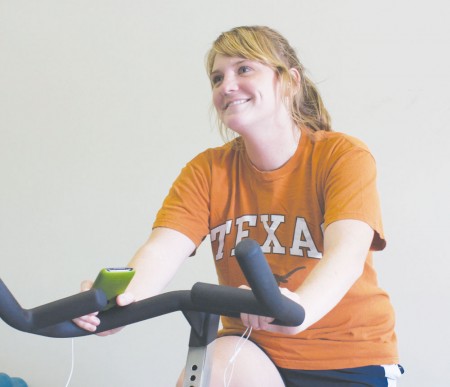 For many students, the drastic change of moving from home into the dorms can cause devastating changes on the scale.
Adjusting to cafeterias at college, which offer dozens of food choices at nearly all hours of the day, is not an easy thing for most college students. It is easy to drop in and grab an ice cream cone on the way to class or go for a late-night snack. Keeping the weight off requires having some knowledge about what you're getting into.
One important tip is being prepared. Be informed that you can eat as much as you want, but that you shouldn't. Take one tray of food and limit yourself. Avoid going back for seconds just because they're there.
Cafeterias offer many desserts, but instead of unhealthy snacking, substitute sugary junk food for a piece of fruit or a granola bar. Taking an extra cookie or two after a meal is okay once in a while, but should not become a daily habit. Extra sweets everyday add up to unnecessary calories and fat.
Between juggling classes and studying, many students find it difficult to squeeze in time to exercise. Working out three to five times a week is ideal, but if you are too short on time then walk extra during the day. During the warmer months, find longer routes for walking to class. Walking up and down hills will add a little extra tone to the legs. Also, increasing your walking pace burns more calories.
Incorporate an ab routine into your daily schedule. This can be done right in your own dorm room. Yoga is another exercise that builds core muscles and balance and can be done in a small space.
Lack of sleep is not commonly associated with weight gain, but according to usatoday.com research shows that "sleep deprivation increases levels of a hunger hormone and decreases levels of a hormone that makes you feel full. The effects may lead to overeating and weight gain." Therefore, it is important to maintain a healthy sleeping schedule meaning avoiding the impractical "all-nighters" and striving to get eight hours of sleep per night.
Stress is another thing that students should try to keep under control. Extra stress can release hormones that encourage the body to store fat. While adjusting to college life can be hard and the homework load intense, try to take some time aside each day to unwind and relax.
Acclimating to the new environment and busy schedule causes some students to gain the notorious "freshman 15." By paying attention to eating and exercise habits, the unwanted weight gain can be avoided. n