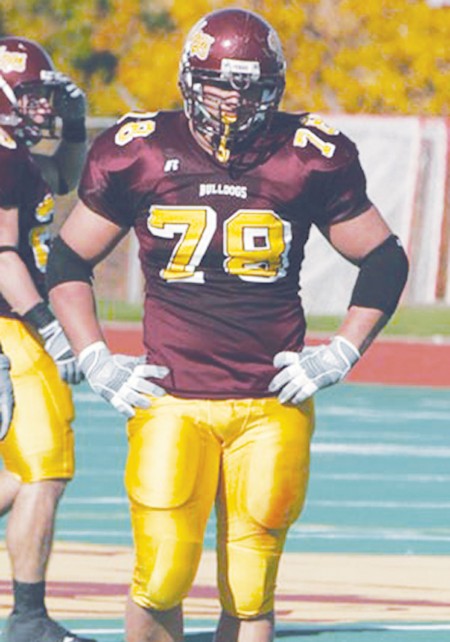 Not many former college football players can list film actor on their resumes, but former Bulldog football star Jake Visser will get his chance to appear on the big screen after securing a role in the upcoming film, "Touchback".
Visser, a former defensive tackle who was named the 2008-2009 National Scholar Athlete of the Year by the Division II Conference Commissioner's Association (CCA) after his senior campaign, was among 1,200 football players across the country that auditioned to be extras in the film, which stars actor Kurt Russell and former Oscar nominee Christine Lahti.
The film, which focuses on a man that wakes up in the past to relive his glory days on the high school football field after a suicide attempt, is an independent project that is scheduled for a 2011 release.
Auditions for extras to round out the two teams were held at Coopersville High School, where Visser played prior to Ferris. Visser had an impressive enough tryout to be named one of 38 players that secured a role in the film.
Besides Visser, many former players with GLIAC ties also secured roles in the film. Former Bulldog John Preston also was also selected for as an extra for the movie. The teams are split into "Team Coldwater" and "Team Cuyahoga". Visser will be a member of Team Cuyahoga.
For the audition process, producers for the film were specifically searching for real football players with competitive playing experience, as the requirements for the roles meant that the players had to be between ages 18 and 30 and that the players cannot seek NCAA eligibility.
Filming took place on August 13-17 at Coopersville High School, with the players and extras sitting in the stands filming various scenes for the film.
Visser, a Daktronics All-American First Team selection in 2008, finished his stellar college career after the 2008 season and took his potential to the NFL. After his senior season, Visser signed a priority free- agent contract with the Houston Texans and took part in their training camp last summer.
The opportunity did not last for long as Visser was released during the camp to make room on the roster for cornerback Deltha O'Neal.
Although his professional playing career never really got off the ground, Visser will get a chance to get back on the field with his motion picture debut. So while an NFL MVP award might be out of picture, maybe the Oscars will come calling one day for Visser. For right now, Visser will focus on the chance to get back on the field and play the game he loves. n