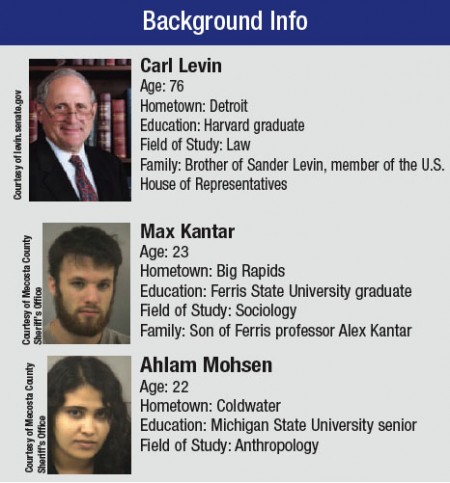 United States Senator Carl Levin had a pie shoved in his face during a discussion with members of the Big Rapids community at on Aug. 16.
Levin, a democratic senator from Michigan and Chairman of the Senate Committee on Armed Services, was in Big Rapids to speak to members of the Mecosta County Democratic Party from 7:30 to 8:30 a.m. at Peppers Café. He opened the floor to questions and selected Big Rapids native and former Ferris State student Max Kantar.
Kantar proceeded to read from a prepared statement criticizing the senator for his stance on foreign policies regarding U.S. support of Israel. During Kantar's statement, Ahlam Mohsen, a 22-year-old woman from Coldwater, put an apple pie in Levin's face. Mohsen and Kantar immediately fled the scene.
Mohsen was apprehended shortly after the incident. She is facing felony charges for stalking and conspiracy to commit aggravated stalking following her arraignment on Aug. 17. Mohsen is being held at Mecosta County Jail where she must post $25,000 to be released. Her bond is set at $250,000 and her next court appearance is scheduled for Aug. 30.
Kantar turned himself in on Aug. 18 with help from attorney Jim Samuels and faces aggravated stalking and conspiracy to commit aggravated stalking charges, the same charges as Mohsen. Kantar's bond was reduced from $250,000 to $10,000 during his arraignment Wednesday for his cooperation with authorities. Kantar will have to pay $1,000 to be released from Mecosta County Jail.
The charges against Kantar and Mohsen are stemmed from an incident in January 2009 in which they were both arrested after an anti-war protest at Levin's office in Lansing. Levin was in Washington D.C. at the time and they did not speak with him directly. The case is still under investigation and the Big Rapids Department of Public Safety turned it over to the FBI.
Levin said in a statement that he was not harmed in the incident. The senator also said that the only thing hurt by the event was their (Kantar and Mohsen's) cause. n