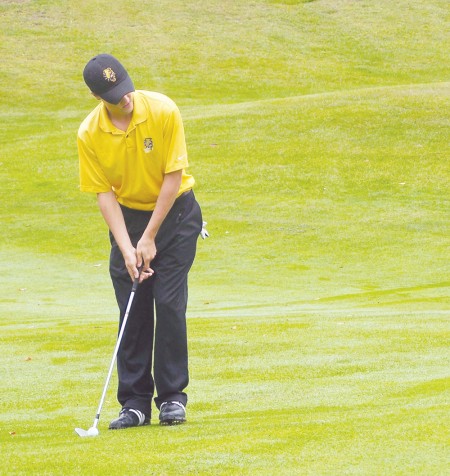 Eric Lilleboe and Garrett Simons qualified for the 110th annual U.S. Amateur Championship at Chambers Bay in University Place, Wash.
After an award-winning career at Ferris State, Lilleboe has continued his success on the course as he achieved co-medalist laurels at the U.S. Amateur Qualifier held July 22 in Harbor Springs.
Lilleboe registered 29 top-10 performances during his career, 18 being top-five efforts, while also claiming two Athlete of the Year Awards in the GLIAC conference. After completing his senior season, Lilleboe was co-awarded the Bulldog of the Year Award, which is given to the most outstanding Ferris State male and female student-athletes.
"Eric is the best player in school history to date," said head golf coach Mike Mignano.
Mignano said Lilleboe is even sticking around this fall to help coach the men's golf team, which will be a positive experience for he and the team by giving them a chance to learn from a Division II All-American. Mignano said he is also excited about having a guy around who has been in the trenches and gone through the process of developing into an outstanding player.
"Eric and Garrett have been two of the hardest working and most dedicated athletes I have ever been around," said Mignano. "It means a lot to our program, no question.  I believe this is the first time we have ever had two Bulldogs in the U.S. Amateur in the same year."
Simons is entering his senior year following a first-place finish at a U.S. amateur qualifying tournament held in Bloomfield Hills. Simons has eight career top-20 showings, including five finishes among the top 10. After the 2009-2010 season, Simons was a honored as a First-Team All-Conference selection in the GLIAC. He won the Bulldog of the Year Award after the 2008-2009 season.
"Qualifying for the U.S. Amateur means a lot to me and it feels gratifying that the work I have put in to my golf game is starting to show," said Simons. "To date, this is my largest accomplishment in my golfing career other than becoming part of the Ferris State men's golf team."
Mignano said he will make his way out to Washington to watch and support Lilleboe and Simons as they play from Aug. 23-29. Check out fsutorch.com for score updates throughout the tournament. n