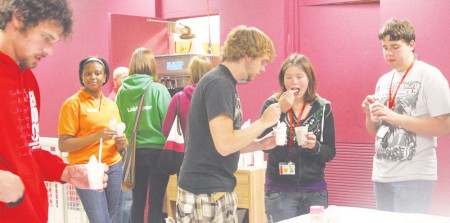 Ferris State University will hold the "Rockin' in the Rec Center" event to give students an opportunity to mi ngle beofre the classes begin.
"Rockin' in the Rec Center" will be take place Aug. 27 at 8 p.m. The event, which is sponsored by the Bulldog Beginnings Committee, will feature games, inflatable's, custom pictures, spin art Frisbees, custom caricatures, and the newest video games to be played on four 42-inch plasma screen televisions.
All students are encouraged to attend this free event, especially incoming freshmen. One of the goals of the event is to help newcomers get acclimated to their new surroundings and feel at home at Ferris.
Allison Witucki, event coordinator for "Rockin' in the Rec Center," said, "It's an opportunity for students to meet each other and have a good time."
This is not the first year the event will take place at Ferris. In the past, this event was held in the Rankin Center, but due to the high success rate, immense popularity, and large number of participants the event was moved to the Rec Center.
"I liked going for the free stuff," said junior Derek Weidman. "The first year I got a caricature done and a fish to keep in my dorm room and last year I just played basketball the whole time."
Weidman also said that there was a lot of free food, such as pizza and ice cream, available at the event.
Juniors Ryan Condon and Andrea Jarzynski also attended the event in past years and both agree the event was fun.
"I'm totally going again this year," said Jarzynski.
The event will take place this Friday from 8 to 11 p.m. in the Student Recreation Center. Everyone is invited to come out, have a good time, and get to know new people. n