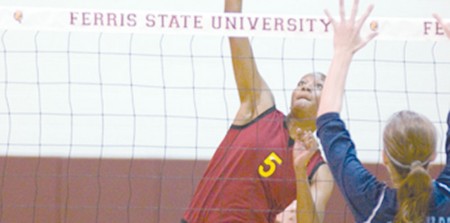 The women's volleyball team will open its 38th season of varsity play on Sept. 3 as the Bulldogs will host the Ferris State Invitational.
The team returns 13 players from the 2009 squad, which earned a NCAA Tournament appearance for the 15th time in school history. While the team has many players returning from last year's team, only three were starters. Fifteenth-year head coach Tia Brandel-Wilhelm hopes last year's success will help the new starters transition into their roles as they know not only what is to be expected of them, but of the team.
"We lost a lot of good players, but we are working hard to be ready to compete," said Brandel-Wilhelm.
The 15-player roster consists of three seniors, three juniors, six sophomores, and three freshman.
One of the team's four captains, sophomore Samantha Fordyce, believes that this team has a lot of potential and said they have been working really hard in the preseason in order to turn that potential into fruition.
"A lot of the teams in our conference are going to be very good, but I think we can be competitive with them and win some big games," said Fordyce.
Brandel-Wilhelm believes the team will be exciting to watch and said it will definitely be worth going to support them.
"We play with a lot of enthusiasm and energy, so we're going to be a lot of fun to watch," said Fordyce.
The team will begin its quest for another NCAA appearance on Sept. 3 in the Ferris State Invitational as regular season play begins. The Bulldogs will host Lock Haven and Glenville State in the first two matches of the 2010 season.
The team will look to get off to a fast start and set the tone for its season, as well as look to achieve its coach's expectations.
"We are going to play at a very competitive level and hopefully be one of the best in the country," said Brandel-Wilhelm. n