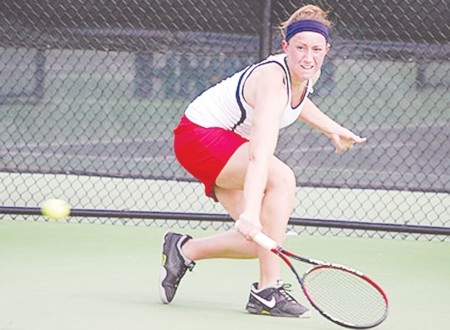 After last season's 12-8 overall record, the Bulldog women's tennis team hopes for another successful season in 2010-2011.
With the loss of co-captain Daniela Dimas from last season, the team hopes that new teammate Alina Stanila will step up and help the team continue its winning ways. Head coach Alex Palladino hopes Stanila, a transfer student from Romania, will come in and bolster the team's chances for a conference championship.
"I believe her impact on our line-up this season will put us in strong contention for the league championship once again," said Palladino.
In addition to a new team member, the squad is more experienced going into this season and feels it can handle the competition better than in previous seasons. The team is also eager to prove that it's a force within the GLIAC after last year's 5th-place finish at the GLIAC tournament after taking down fifth-seeded Ashland University in the opening round of the tournament.
Palladino said being stronger and more successful in singles competition is a goal that the team has focused on this season. Improving its doubles play was another focus as well this offseason. But with all of the work that the team has put in this offseason, having veteran experience is something that the team will use to its advantage this year.
With last season's team composed of mainly sophomore players, this year's squad features an entire team of players that have one or more years of collegiate experience under their belts. With a team built on experience, Palladino said he hopes his players will believe in themselves as a team, with the attitude that they can beat anyone at any time and come out on top in big matches.
Among the big matches the team is looking forward to this season are contests against Michigan Tech, Wayne State, Northwood, and rival Grand Valley State, whom Ferris edged out last season, 5-4. The Bulldogs know that they will have to show the top teams in the GLIAC that they can play with the best if they want to claim a conference title this season.
As the season approaches, the team hopes it will have a strong season and improve from last year's 12-8 campaign. Using their excitement along with their experience, the Bulldogs expect a strong fight this season to prove that they belong at the top of the GLIAC.
With high expectation for the season, senior co-captain Amy Ingle knows that the team will live up to the hype.
"We expect our team to at least finish in the top three in the GLIAC, and to once again qualify for the NCAA Regional Tournament in May and hopefully win a round or two," said Ingle. "We are all very excited to start our season and pull out some big and unexpected wins." n